Spring brings new life and hope, so can your CNY spring cleaning do to your house. After one year's hustle, your home may have accumulated some negative energy and definitely deserves a thorough cleaning to unleash bountiful positive energy.
So, why not start planning your CNY spring cleaning for 2018 now?
10 Tips For CNY Spring Cleaning For an Auspicious 2018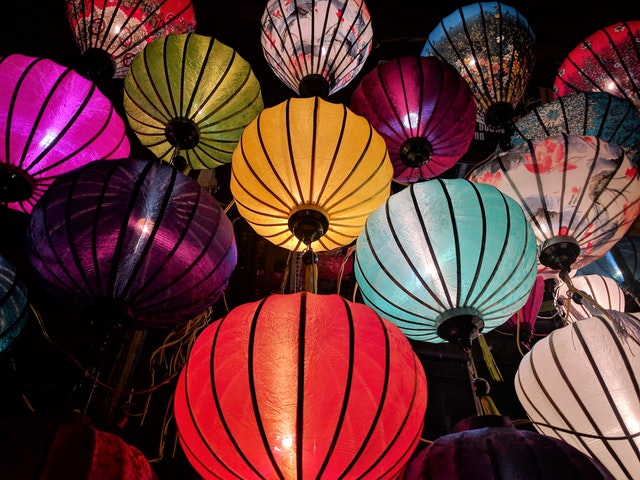 Spring cleaning may sound daunting to you, for the amount of work and the intensity of labour in the process. Worry not. Here are 10 tips to make your CNY spring cleaning smooth this dog year.
Read also: 7 Places to Buy Unique CNY Decor in Singapore
Read also: 5 CNY Decorations For the Year of the Dog
#1 Choose good time for CNY spring cleaning
Spring cleaning may take few days. In my memory, my mum always finished CNY spring cleaning in two consecutive days with the help of part time cleaners. An advocate of 'finish early, rest early' philosophy, she wants to give family a best new year home she can give.
Current trend, however, suggests that we divide the huge project of CNY spring cleaning into several parts and complete them over a period of few weeks.
Either way works as long as it caters to your lifestyle. For those who requires lots of momentum to start, maybe my mum's method works better :)
Something fun from Feng Shui theory is that not all days are equally suitable for CNY spring cleaning for different people. Check the table below, because you may want to avoid spring cleaning on certain dates.
If you are dog, dragon or pig, however, feel at east to do spring cleaning on any dates convenient for you.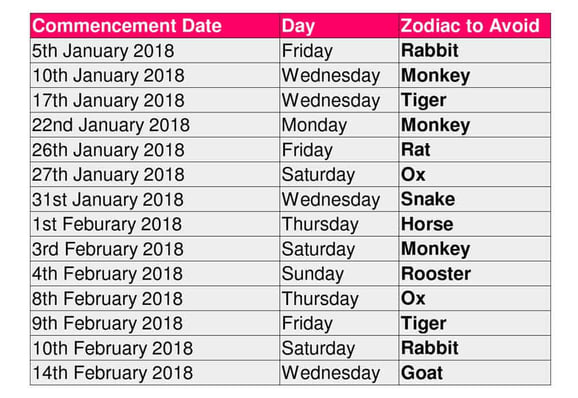 #2 Enlist helpers for CNY spring cleaning
Spring cleaning can never be a one-man job, unless we have Monkey King at home who can create countless helpers with a single blow of his hair. Thus, considering the huge demand for cleaners prior to CNY, you are urged to plan early and book part-time helpers in advance for your spring cleaning.
You can always engage professional cleaning agents such as Home Cleanz Singapore and SGclean Xperts. They will send trained cleaners to help you.
Another option is to use cleaning service marketplace such as Helpling Cleaning Service App and Sendhelper Service App. You can get detailed guides on cleaning service marketplace in Singapore here.
#3 Get toolkit ready for CNY

spring cleaning

An English proverb says we cannot make bricks without straw. The same applies here. For a thorough spring cleaning, we need good cleaning supplies to do a good job.

Here is a list of basic cleaning products for your spring cleaning 2018:

You will need two types of cleaners to treat soap scum and mildew in the bathroom: one for the tub and tile, another for the toilet.

You can either buy Carpet and Upholstery Spray or make it yourself by dissolving dishwashing liquid in water.

Used newspapers has been used for decades by mums around the world as a secret weapon to clean glass. Simply wash class with wet newspaper and dried with another piece of dry newspaper.

You can make furniture polish yourself too.
Prepare ¾ cup olive oil, ¼ cup distilled white vinegar and 1 teaspoon lemon juice

Mix everything.

Keep liquid refrigerated for future use.
Mop and broom

Extendable arm - see below
I just discovered this wonder cleaner that can easily access places difficult to reach such as roof of cars, doors and high ceilings. With its extendable and bendable arm, no more climbing is needed.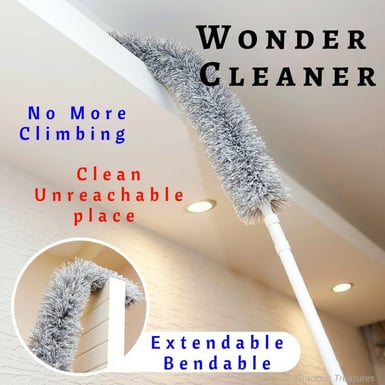 #4 Declutter your house before everything else
With dates and helpers arranged and cleaning toolkit prepared, let's kick off 2018 CNY spring cleaning.
Declutter should be the first thing we do on the spring cleaning day, for the simple reason that we want to avoid unnecessary cleaning work on items we want to throw away later.
Plus, the more space we can have at home, the easier it would be to clean the house.
Sometimes, unexpected sweet moments may happen when you uncover some dust-covered storage boxes in the nook at home and find the beautiful necklace gift your husband bought for you last Valentine's. Or sometimes, you may just realize last year's clothes can no longer fit you and want to donate away to save some space at home.
What to do after decluttering?
You will have 3 types of stuff after decluttering:
(1) things to keep
(2) things to throw away
(3) things to donate or sell.
Where to store 'things to keep' and 'things to donate or sell'?
If your home is running out of space, let Spaceship Storage help you.
Spaceship will come to you to help with packing and take your boxes to warehouses. Whenever you need to retrieve items, just schedule on Spaceship app and wait for delivery. It is that simple yet powerful.

#5 Clean your foyer to welcome guests in the new year
Here is a list of essential cleaning work for your clean foyer.
Dust lights (with the recommended wonder cleaner with extendable arm)

Wipe walls

Wipe doors and door knobs

Wash bench, carpets and bench cushions

Wash the entry mat. If you want to surprise your family and guest with an auspicious new mat and other CNY decorations, read

here

Sweep and scrub floors
#6 Clean your living room
You may follow steps below to clean your living room.
Open windows

Wash windows, window sills and window screens

Wash walls, doors and knobs and floors

Vacuum sofas and wipe leather sofas

Wash pillows and blankets on the sofa

Dust shelves, decor, lamps and lampshades

Clean television screen

Carefully dust electronics and tidy electronics wires

Sort DVD collections, books and magazines

Wash children's toys with diluted cleaner, rinse and dry
#7 Clean your bedrooms
We spent almost one third of our time sleeping in bedroom. Therefore, we should clean bedroom with more care. Hope the tips below help you get a spotless bedroom, a one that brings sounder sleep.
Open windows

Wash windows, window sills and window screens

Wash walls, doors and knobs and floors

For drawers: empty drawers, wipe drawer twice (one time with wet cloth and another time with dry cloth), place items back in near order

For closets: remove everything from closets, wipe closet carefully with wet cloth and dry cloth sequentially and finally put everything back neatly

For space under bed: remove items under bed, sweep and mop the floor, organize everything under bed

For bed: remove pillows and duvet and wash them in hot water, shake mattress to loosen up dust and dirt on it and vacuum it up, add on new bedding

Dust lights and wash fans and fan blades
#8 Clean your bathrooms
Bathrooms can easily store lots of dirt over the year, especially when we shower off dirt from our body every day. Spend more efforts in bathroom and you will be rewarded with a radiant bathroom with a nice natural smell.
Open windows

Wash windows, window sills and window screens

Wash walls, doors and knobs

Wash floors with brushes and detergents

For cabinets: empty all cabinets and wash inside, discard expired toilette and cosmetics and put useful ones back in nice order, wash outside of cabinets and vanities

Clean tub and tub drain

Clean toilet inside and out with detergent. You may also need to remove seat and clean around seat bolts

Clean sink and sink drain

Wash faucets until they are shiny

Clean mirror and mirror frame with used newspaper or glass cleaner

Dust lights

Reseal grout lines if necessary
#9 Clean your kitchen
Cleaning kitchen may take longest time during the spring cleaning, since you battle with oil and smoke here every day. You may also need to use detergents more often to remove oil from everywhere.
Open windows

Wash windows, window sills and window screens

Wash walls, doors and knobs

Wash floors with brushes and detergents

For each cabinet or drawer: remove items, wipe cabinets and drawers, wash cabinet doors and knobs, place items back neatly

Wash and sanitize cutting boards

Sharpen knives

Clean appliances like dishwasher, oven, microwave oven, toaster and stove

Clean and organize pantry. Check food expiry dates

Defrost freezer, empty fridge and freezer and clean inside and outside. Put back food that is still within expiry dates. Finally, vacuum refrigerator coils

Wash counters

Wash the sink, faucet and drain

Dust lights

Reseal grout lines if necessary
#10 Time to reward yourself
Hooray, finally you have done everything. Congratulations!
It's been a long day and you may feel tired, yet happy. Look around, you now have a houseful new hope for the new year!
You may want to treat yourself to a nice dinner out. Or if you may simply have some rest in your cleaned couch and take a sweet nap. When you wake up, expected to be bombarded with showers of appreciation from the family :)
Oh yeah, what about those 'items to keep'? No worries, you can just rest.
Spaceship takes care of all your storage needs.

To recap, here are the 10 tips for CNY spring cleaning.
Choose good time for CNY spring cleaning
Enlist helpers for CNY Spring Cleaning

Get toolkit ready for CNY Spring Cleaning

Declutter your house before everything else

A clean foyer to welcome guests in the new year

Clean living room

Clean bedrooms


Clean bathrooms

Clean kitchen

Time to reward yourself
If you enjoy reading tips like these for Spring Cleaning, follow Spaceship Storage's Facebook Page.
Photo Credit: CNY Spring Cleaning Dates | Wonder Cleaner