The gig economy is propelling a whole new circle of entrepreneurs and freelancers into the workforce. More and more millennials are choosing a lifestyle that allows them to fix their working hours, as well as location. With the increase in logistics efficiency around the world decreasing shipping cost, small local brands can now sell their items internationally with low barriers. For retailers who prefer to have control over their packaging and distribute from where they operate, offices that have ample warehouse storage space are a gem to find as the price of commercial office space might be too high per sqft for inventory storage.
We have compiled a list of 5 Office and Storage Space that won't inflate your monthly overheads when your shipment comes in. Being close to your inventory does not have to be costly.
Read more: Temporary Warehouse Storage in Singapore
Access to free Wifi 24/7
Pantry with coffee to kickstart the day
Network opportunities with other members
Printing and mailing services
A desk to work at with a power socket
Air-conditioning and 24/7 security surveillance
5 Storage and Office Rental in Singapore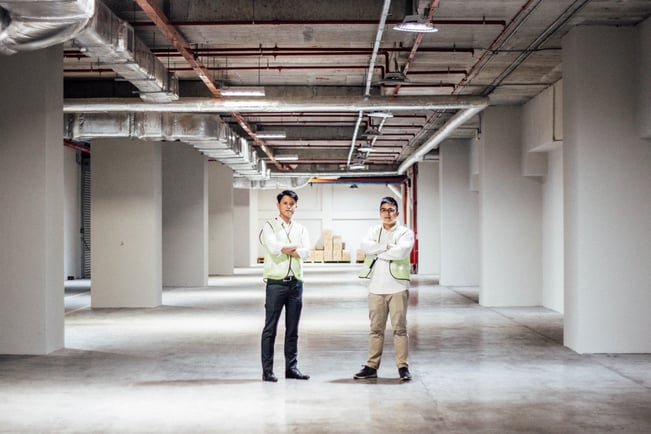 This newly opened shared warehousing and co-working in Bukit Merah is every micro-brand's dream. With 5 warehouses in Singapore, big shipments of goods can be received, inventoried and distributed for less. Retailers can opt to get small volume of their merchandise transported to SPACELAB to be processed for daily customer orders. Having their own fleet of vehicles, and a network of experienced third party logistics partners, sellers can package, personalised and deliver their items to customers as soon as they get an order.
This saves the hassle of coordinating with shipping companies and making multiple trips to the warehouse to retrieve more inventory.
Details of CoWorking and Warehouse Space
Website: http://get.spaceship.com.sg/office-and-storage-space-singapore
Membership Rates: Start from $250
Location: 2 Jalan Kilang Barat
Unique Differentiator(s):
Option to house more inventory at bigger warehouse
High-touch personal service that helps members build and scale together
Inventorising and Pick and Pack options
Something to think about:
If your brand or company requires a lot of face time with customers, a co-working space in the CBD might be more suitable to save time on traveling.
2. Work+Store Space
Website: https://www.workstore.com.sg
Fixed Office Rates: Start from $700 for 171 sqft
Location(s):
Bartley: 18 New Industrial Road Level 6 Singapore 536205
Tampines: 18 Tampines Industrial Crescent Level 2 Singapore 528605
Upper Thomson: 680 Upper Thomson Road Level 2 Singapore 787103
Eunos: 100 Eunos Avenue 7 Singapore 409572
Ang Mo Kio: 38 Ang Mo Kio Industrial Park 2 Singapore 569511
Unique Differentiator(s):
Near MRT and bus stops
Small dedicated office of 100 - 300 sqft
Something to think about:
For companies in a stage of growth, having a community to support and bounce ideas off might be a better option to ensure that your company gets into the momentum before gearing off with your own office space.
3. Abiel Space + Office and Storage Space
Website: http://www.abielspaceplus.com/
Fixed Office Rates: Start from $1700 for 4 desk
Location(s): 2 Connectt @ TS, 2 Pereira Road, #04-01 Singapore 368024
Unique Differentiator(s):
Good for corporate image with well furnished office
A fully fitted loft with 60% more storage space than a standard office
Accessible to local delights at Old Airport Road
Something to think about:
This set up might be suitable for e-commerce or event management companies whose inventory is not heavy as transporting the storage boxes onto the loft might require effort.
4. OW Solutions Dedicated Storage and Office Space
Website: http://owsolutions.sg
Fixed Office Rates: Start from $6 psf for minimum 1 year rental
Fixed Storage Rates: Start from $2 psf for minimum 6 months rental
Location(s): Ark @ Gambas, 7 Gambas Crescent Singapore 757087
Unique Differentiator(s):
Ample parking space, with season parking available
Keyless entry to your office
Something to think about:
Unless you live close by, this location is a little inaccesible.
5. The Workshop SG - Shared Office and Storage Space
Website: http://www.theworkshop.sg/en
Membership Rates: Starts from $220 per month
M Storage Facility: Starts from $1000 per month
Location(s): 5008 Ang Mo Kio Avenue 5 #04-09/16, TechPlace II Singapore 569874
Unique Differentiator(s):
Conference room for your team meetings that can be managed online
Has flexi plans from flexible tables to a dedicated studio
24/7 access for members. Visitors are required to make an appointment as there are no receptionist at space.
Something to think about:
This set up is great for practical entrepreneurs who prefer to work alone. The 24 hour access, allows one to come and go as you please. If last mile deliveries are an important part of your business operations, you might want to talk to a last mile delivery company before choosing a office and storage space.
Conclusion
There are perks to being part of co-working space and having your own office space. Being a part of a community ensures that you can scale up or trim down easily with the help of ad hoc freelancers. It also provides you with a social blanket despite working on your own to keep your sanity in check. Having a dedicated office space lets you organise your merchandise they way you like it, reducing the hassle of having to lock things up in lockers after use. With the uncertainty of what's going to happen in the next 6 months, the best solution is to choose a office and storage provider that gives you the flexibility of changing the space you use in short notice. This way you'll save on unnecessary wasted resources.