As the year of the dog approaches this lunar new year, families are spending every weekend cleaning up their homes before putting up the CNY decorations. The year of the dog is special compared to the rest of Chinese zodiac symbols as it subjectively is one of the cutest animals of the zodiac cycle. In additional, it is known universally that dogs are man's best friend. This lunar new year is a celebration of both man and pet.
While we were sourcing for CNY decoration for our office online, we decided to compile some of the cutest ones that incorporates a dog.
5 CNY Decoration for the Year of the Dog
1. Dog Plushie with Fortune Plant for Good Luck
This 30cm plushie immediately caught our eye! It comes in two different designs. You can choose between the mandarin tree or the cherry blossom plant. Unfortunately, you will not be able to choose the design of the dog that will be delivered to you. We love this because it is semi reusable. To use it next year, you just have to yank out the dog soft toy (make it into a key chain to not waste it) and replace it with a new plushie. Plushies are great for home decorations as it is children friendly
Buy from Carousell here.
2. "Duilian" For your Door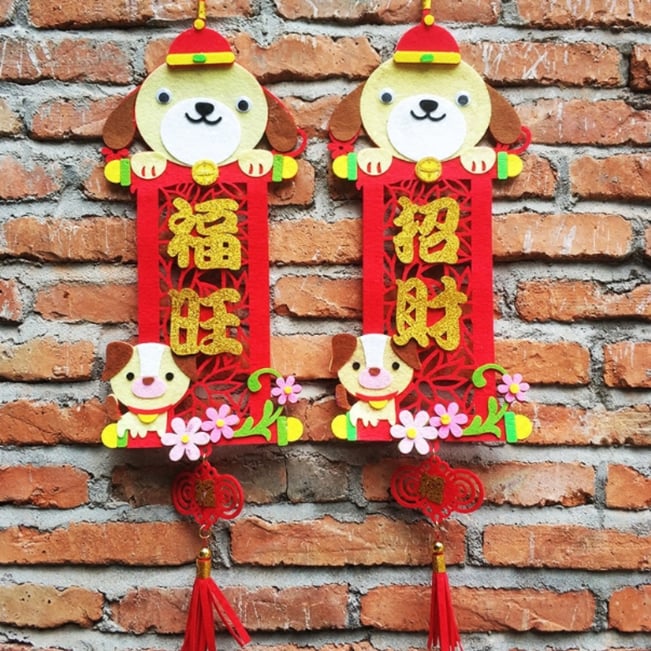 "Duilian"s (for lack of a better word) are matching posters that usually carries half a sentence on each side. According to Wiki, they are couplets in Chinese poetry. If you are not keen on squeezing for a good deal in Chinatown, you can opt for the delivery option. Registered local mail takes about 2 days after your sender has posted your order. This saves you the hassle and time to spruce up your home for the festive period. This set of duilian are light and durable as it is made of felt, unlike the usual paper ones which can tear easily if the party gets too rowdy. It is usually placed near the entrance of a home, but you can also stick them on your door.
Buy from Carousell here.
3. Mini Waving Dog - Japanese Style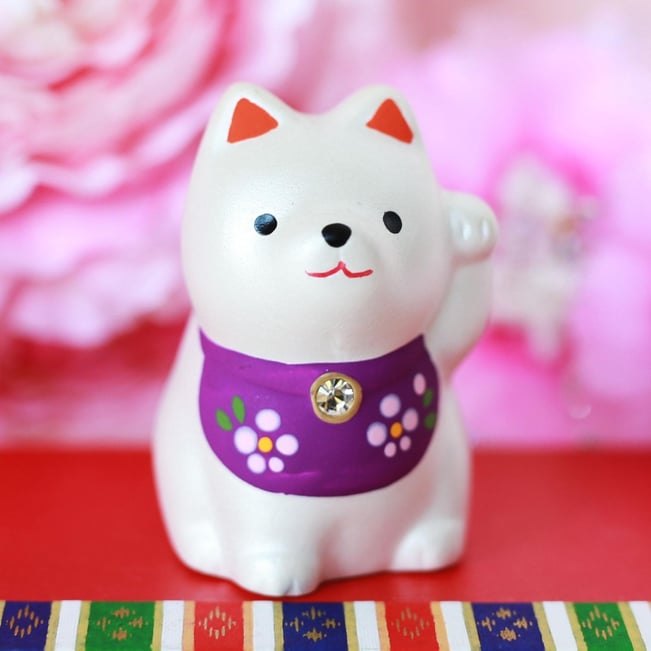 If you'll like something a little more sophiscated, here's one of a mini ceramic dog in Japanese style for you to display on your TV console or at the entrance of your home. As good things come in pairs, you will have 2 mini dogs greeting you as you enter your home this Feburary. This is perfect for anyone who has watched Hachiko and wants a piece of loyalty and nostalgia in their home. Purchasing is easy with Pay Now and you can opt to get it delivered too.
Buy from Carousell here.
4. Diamond "Fu" (Prosperity
)

Door Decoration
These puppies are the absolute cutest, they will bring a sense of joy and playfulness to anyone that visits you over the CNY weekend this year. Unlike the standard over patterned dogs decoration that you see at departmental stores, this simplistic version is great for anyone who wants a add a touch of cheer without going over the top. It even has the word "Happy" on it. To purchase, you will have to head down to their physical store.
Buy it at Ezgift, more information here.
5. Red Packets of Snoopy
Peanuts have made a comeback in the recent years, thanks to the increasing popularity of street art and brands in the likes of Kaws, Bape, etc. If you are looking to set yourself apart from the other married couples and be a hit with your nieces and nephews, these Snoopy red packets are definitely the ones to get. Don't forget to visit with your NMDs too.
Buy it from Qoo10 here.
Conclusion
The year of the dog only comes once every 12 years and being one of the more reliable zodiac animals, it's definitely worth the extra effort to the home decked up with adorable plushies and the wall covered in red cuttings so that you'll have a wang (lucky) year ahead.
Spring Clean Easy
Is your home too cluttered with old furniture and books that you don't use anymore but can't bear to throw? Use Spaceship Storage. We help households store their memories and organise them online.

And with that, have a properous year ahead.