Have you used self-storage in Singapore?
Did you have difficulty moving items out of your place and into the self storage facility?
How much does it cost overall, including the transportation cost?
Having been in Singapore for quite a while and formed a fairly mature industry, self-storage service is what most residents in Singapore turn to when they need extra space outside their homes, offices or warehouses.
Although self-storage is a more flexible and cheaper choice than renting a warehouse, most self-storage users experience real pains in self-moving, self-packing and travelling between their place and warehouses.
Now you have a choice to avoid the pain of self-storage.
Owing to rising space cost in Singapore, Singaporean households as well as businesses are having smaller homes or offices and demand for storage services increases rapidly. Valet storage, being a younger and more innovative counterpart of self-storage, is gaining much popularity in Singapore in recent years for its convenience and the ability to save more costs.
Spaceship has created an infographic to help you understand more about valet storage and self-storage service in Singapore. With these insights, you shall be equipped with enough knowledge to make right choice for your next hassle-free storage experience.
Here are some important takeaways about storage service in Singapore .
Self-storage vs valet storage

Unlike self-storage where you have to move and manage inventories yourself, valet storage services help with packing, picking up, item retrieval and online inventory management.

Valet storage service in Singapore

So far, Spaceship offers relatively better valet services. For example,

Spaceship customers can manage inventories both in app and in web whereas most other companies limit online management to web.
Spaceship offers professional packing service for special and bulky items like mirrors and fridge. Request for packing casual items are also happily served.

Spaceship is more just than valet storage

Instead of being a simple storage service, Spaceship offers a comprehensive storage solution that also includes moves, item disposal and warehousing service.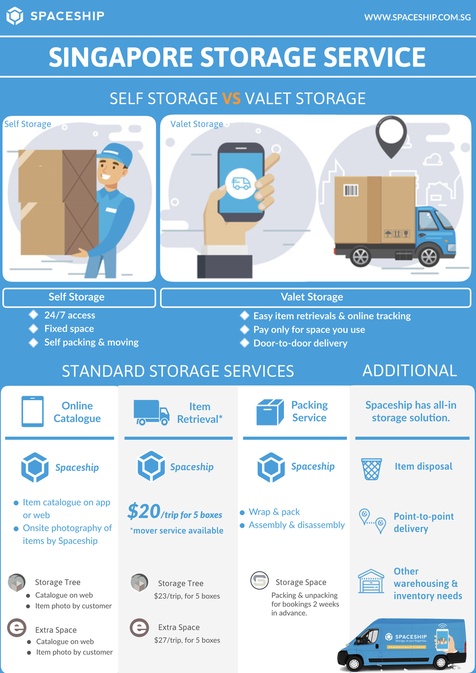 Do you have other questions concerning this infographic? Kindly comment below and we may respond within few hours.
If you want to keep updated with our infographics, simply like our Facebook page or Instagram. We will see you there!