Do you notice this Easter 2018 falls on April 1 when you will be having a long weekend with your kids on their school holiday? This definitely makes it a weekend worth planning for. Whenever people think about Easter, so many of them conjure up images of colourful eggs and hot cross buns, which have been the universal themes of Easter. Therefore, let's fully immerse ourselves in these Easter traditions this year. Your kids may just love it.
Easter 2018: Top 5 Activities to Do with Kids in Singapore
#1 Try Singapore 's best hot cross buns for Easter 2018
A little background of Easter hot cross buns
We all know that Easter celebrates the resurrection of Christ which falls on a Sunday between 21 March and 25 April each year. As such, hot cross buns, which are sweet buns with a white or yellow cross on the top, can have rich Christian meanings.
"You have got the bread, as per the communion, you have got the spices that represent the spices Jesus was wrapped in in the tomb, and you have got the cross."
-- Steve Jenkins, Church of England spokesman

Salted egg yolk charcoal buns from Joe and Dough
Hot cross buns are popular in Singapore and can be commonly found in bakeries. Yet if you are on the mood for something special or unique this Easter, you may really want to consider Joe and Dough for their one-of-its-kind salted egg yolk charcoal hot cross buns. The bun is so fluffy and soft as if it would melt in your mouth. And the rich warm egg yolk liquid sits nicely inside the bun, adding extra multiple layers of taste and texture to it.
Their classical hot cross bun is also awesome choice, with its warm spices of cinnamon, nutmeg and studded raisins and citrus peel.
Try it to believe it.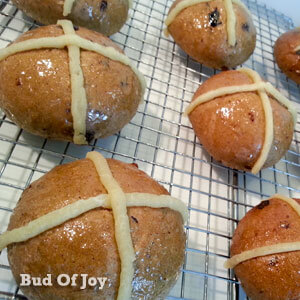 Egg-free dairy free Easter hot cross buns from Bud of Joy
If you are more into organic products, Bud of Joy is a great choice. Featuring wholemeal bread made from organic ingredients, this local bakery is offering egg-free-dairy-free-yet-still-soft hot cross buns for vegans and the like.
#2 Make Easter Hot Cross Bun with Kids (It's fun & easy!)
Kids all love doing it themselves, especially with flour and dough this time :D. Make the day for your kids (and yourself too of course) by baking yummy hot cross buns. Meanwhile, you are actually imparting life's precious general knowledge to them.
To make your baking day with kids a success (yeah, we fully understand things with kids can…go wrong), here are the steps to guide you through. And we trust you can do it :)
Ingredients need for Easter Hot Cross Bun
4 cups plain flour.

2 x 7g sachets dried yeast.

1/4 cup caster sugar.

1 1/2 teaspoons mixed spice.

pinch of salt.

1 1/2 cups currants.

40g butter.

300ml milk.

2 eggs, lightly beaten.
Step 1
Heat up milk till lukewarm and stir in the yeast. Ideally, milk should not be too hot to kill yeast, nor too cold to fail to activate the yeast.
Meanwhile tell kids that yeast is alive and just observe their excited sparkling eyes!
Step 2
Get kids weigh out the flour and mix in the spices and sugar.
You can ask your kids to smell each spice and what they smell like. If you are baking traditional Easter hot cross buns, the cinnamon can always evoke memories of Christmas!
Then, you can add in melted butter, eggs, fruits, spices and yeasty milk before stirring them well.
Step 3
Kneading time. Though adults may frown at the idea of kneading nonstop for 10 minutes, your angle is now the best assistant in the world and they can never get too tired of this (or their curiosity and excitement make them forget about tiredness).
Make sure their hands are clean and show to them basic acts for stretching, bashing and folding. After that, close your eyes and leave the whole world to them.
Step 4
When the dough is soft and springy, leave it to rise for one hour.
The experience seeing dough growing so much in size would amaze your kids. You may explain to them how it works.
Step 5
Make small buns out of the dough together with kids.
It is all right if your kids cannot make well-shaped buns as long as they are of similar size (so they need a similar amount of baking time in the oven). They will cherish buns they make themselves no matter in what shape. And we cherish their efforts too.
Step 6
Bake in the oven for 20 minutes at 200 C. Enjoy your kids' voyage Easter hot cross bun!
#3 Colour Easter eggs (Too pretty to eat)
A symbol of rebirth and new life, coloured eggs are a must for Easter. Let's bring the colour and the festive mood to eggs!

Make marbeleized hard eggs
Ingredients
White eggs (brown eggs work too but the final colours may be less vibrant)

Food colouring

White vinegar

Cooking oil
Procedure
Boil eggs for 10 minutes till fully hardened. Then peel off eggshells

Prepare paints of various colours by mixing 1 part food colouring, 1 part oil and 1 part white vinegar. Oil is to create marble effect while the vinegar helps intensify colours.

Color eggs by dipping them in any portion of their sizes in a paint. Then lift them up to dry with a napkin before dipping them into another paint.
You can create an exhibition of coloured Easter eggs to amaze your kids and family when they eat it for breakfast or dinner.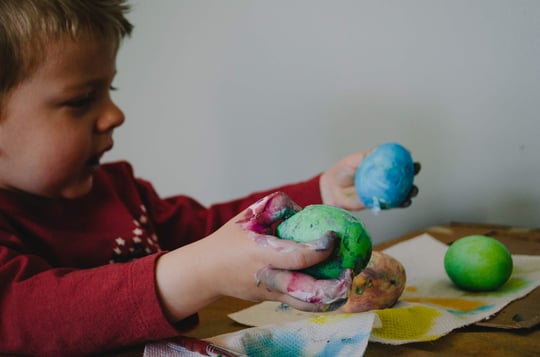 Make naturally coloured soft eggs
If you prefer homemake natural colouring, here is how.
Ingredients
Orange slices with the peel on and carrots (orange color)

Blueberries

(blue color)

Spinach leaves

(green color)

Red grapes and strawberries

(pink color)
Procedure
#4 Buy Chocolate Eggs (Another way to go EGG-cellent this Easter)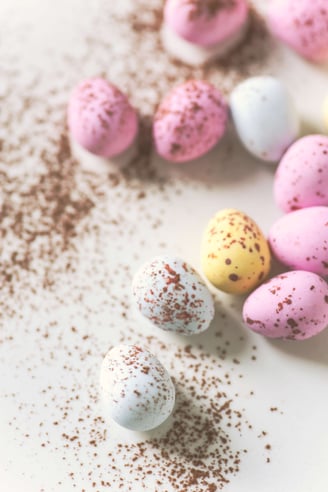 If you like chocolate eggs more than eggs, here is a tip when you choose chocolate: read carefully into the ingredients of chocolate and pick those with less sugar and artificial ingredients - simply because your family and your kids will be eating it.
Here is a list of ingredients you may want to avoid or reduce in your chosen Easter chocolate eggs.
Fruit extracts

Vanillin

Hydrogenated oils like palm oil, soybean oil and other trans fats

Questionable oils like Sucralose, aspartame and saccharin

Sweeteners with clinically found side effects like maltitol, polyglycerol, xylitol, inulin and sorbitol
I happened to find Hellochocolate who sells craft chocolates made from more natural ingredients and won the best chocolate title for international chocolate awards 2017 & 2016. From a revolutionary chocolatier as they are, you will get unique artisanal chocolates like raw chocolate with Spirulina as well as fruits and nuts chocolate eggs.
Expect to see how your kids will be amazed by these yummy and healthy Easter chocolate eggs.
#5 Have fun in Easter egg hunting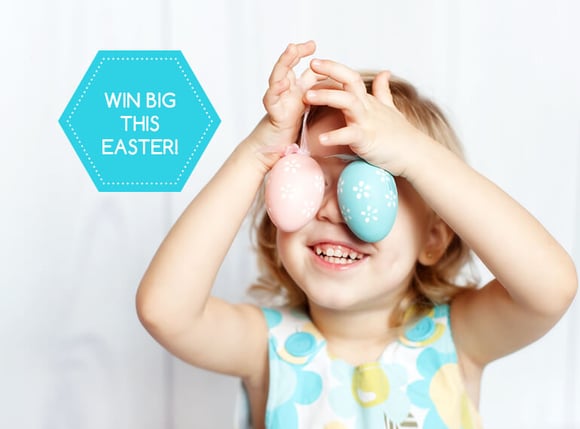 Easter eggs would not make your Easter complete. Easter egg hunt would. Among so many Easter egg hunts in Singapore, here are 3 great picks by Spaceship.
The Polliwogs Easter egg hunt
More Info: here
Highlight:
4.30pm - 5pm
Easter Special Show with series of Easter games


5pm - 5.30pm
Commencement of Grand Easter Egg Hunt @ Play Arena


5.30pm - 5.45pm
Prize Presentation


Special prize: a FREE return visit to The Polliwogs or Waka Waka



Special amenity: Easter Crafts available every Tues - Fri in March, FREE with paid entrance!
Venue, Date & Time:
The Polliwogs @ Eastpoint Mall
4.30PM - 5.30PM, 23Mar 2018
The Polliwogs @ Suntec City
4.30PM - 5.30PM, 16Mar 2018
The Polliwogs @ VivoCity
4.30PM - 5.30PM, 23Mar 2018
Waka Waka by The Polliwogs (annex@furama)
4.30PM - 5.30PM, 1Apr 2018
Kranji Countryside Farmers' Market at Easter
Date & Time: 12PM, 31Mar 2018 - 4PM, 1Apr 2018
Venue: The Nyee Phoe, 240 Neo Tiew Crescent, Singapore
More Info: here
Highlight:
More than 50 local Farmers and artisans

Singapore's fresh produce

Farm to table Makan

Fun family activities

Asian pavillion

Easter egg hunt
Easter Farmers Market at Loewen Gardens
Date & Time: 9AM–2PM, 17March 2018
Venue: 75E Loewen Road, Singapore 248844
More Info: here
Highlight:
Vendor sales of organic vegetables, olive oil, wine and baked goods

Body Temple's FREE family workout at 9.30AM

Easter egg hunt at 10AM-12PM


Trampoline, playground, face painting and easter colouring for the kids
Why not invite your friends over for an Easter egg hunt at home?
Easter egg hunt can be a time for friend gathering, too. If your time allows, why not host an Easter egg hunt with the beautiful eggs you make? When your and your friend's kids have fun scouting the whole house for eggs, it is also your time to catch up with your friends about their life's happenings. How wonderful!
Declutter your house for Easter
An Easter egg hunt sounds like a brilliant idea! Yet, it may not be so if you have much clutter at home. To prepare for a wonderful Easter with kids and your friends, let's start early for house cleaning. There tools from Ikea are helpful for organising your space at home.
Alternatively, you may engage external storage service who at the same time can help pack and transport your items without your spending much efforts. This is definitely a wonderful choice since preparing the eggs and hosting the friend gathering can consume so much of your time and energy!
If that sounds great for you, Spaceship Storage is here to help you make your day. To offer most convenience to customers, Spaceship always complements storage service with packing and delivery service, so you can schedule item storage and collection at home with few taps on the phone.

Conclusion
Easter is coming. Let's make it memorable for your kids and yourself too with these tips:
Try one of the best Easter hot cross buns in Singapore at Joe and dough or bud of joy.

Make Easter hot cross buns with kids

Colour Easter eggs

Buy healthy chocolate eggs

Have fun in Easter egg hunts
Wish you an EGG-cellent Easter with kids this year!

Photo Credit: Two Easter Bunnies | Joe and Dough buns | Bud of Joy buns | Easter Egg Hunt