You just collect your key and excitedly walked into the house. Although it is not so big, it is YOURS now and you love it from head to toe. Yahoo, my sweet home! How should I decorate it? Mediterranean or romantic are lovely interior designs but minimalist is the elegant trend...
Congratulations for getting your key and your home is surely going to look awesome. Get these 10 tips from popular interior designers in Singapore that can make your small-yet-sweet home look larger.
10 Design Tips for Small Homes by Popular SG Interior Designers
Before we go into details of the 10 interior design tips for small homes, take away these 4 principles that underlie many interior designs. Grasp these to get inspiration for your house designs.
Seeing is believing
Less is more
Lift up furniture, lift up mood
A change of focus, a change of mind
Tip 1 Welcome natural light in
Look at AkiHaus' interior design below. Ushering natural light in opens up your space by connecting your room with the vast outside world. Will your house still be a confined space of 90 sqm?
Furthermore, scenes of trees, bricks, clouds and sky chase away the dullness and bring in colours into your room. People staying in your place would feel refreshed and energized.
Therefore, if possible, you are encouraged to have larger windows to make way for natural light to enter. If the view around your windows is not so pleasing, you can dress it up with plants or flowers.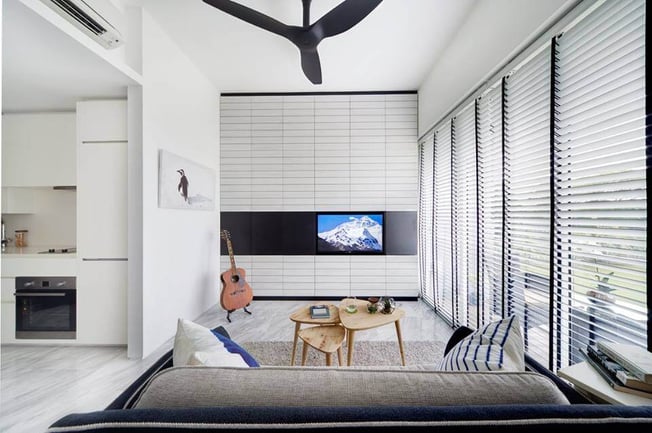 interior designer: akiHaus | website: http://www.akihaus.com/
Tip 2 Add mirrors
This time mirrors are not for ladies to ask "Magic mirror in my hand, who is the fairest in the land?" Rather, if put at a proper angle with the right measurement, mirrors serve to double the size of your room in visual effect. Just see how interior designer Dezzo manage to do that below.
Mirrors also can increase the depth and amplify the lighting in the room, making your home full of variety.
Another bonus can be, of course, to allow ladies to do an easy check on their look to ensure they remain pretty all the time.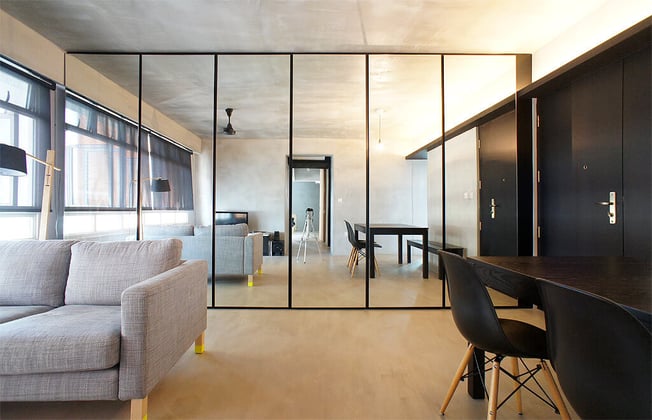 interior designer: Dezzo | website: http://dezzocom.tumblr.com
Tip 3 Use light-coloured walls and floorings
Light and bright walls and floorings are very reflective and can make your home feel more open and airy. Additionally, light colours can lighten our mood and pacify our mind effectively.
If pure white is not your preferred choice of palette, you may want to compliment it with colors in furnitures or use light-coloured pattern wallpapers and floorings.
I was rather struck by the beauty of light-coloured wall in OMUSliving's design where space never seems to be confining. If you are keen, you may check out RICE which offers many brilliant floor designs for you to choose from.
interior designer: OMUSliving | website: http://www.omusliving.com/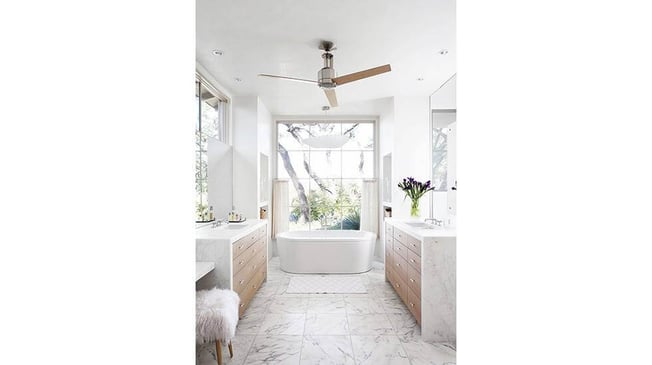 tile vendor: RICE | website: http://www.rice-fields.com/
Tip 4 Use Storage Space
If you want your home to feel more spacious, the simplest thing to do is removing all unnecessary items in the house. You can either store them in the house or store them away with storage companies in Singapore.
There are many ingenious storage design ideas to help you expand storage space in your home such as drawers under the bed board shown in ZL Construction's design below. Make full use of these designs to cut the clutter at your house. Here is another series of smart tips to better organise your home.
Alternatively, as the storage industry in Singapore is maturing, you can get convenient valet storage service at really good price. These valet storage services not only offer storage space, but also help you move, pack and retrieve items when you give instruction in the phone app. Some companies like Spaceship now offers 'Pay only for the space you use' package with month-to-month flexibility.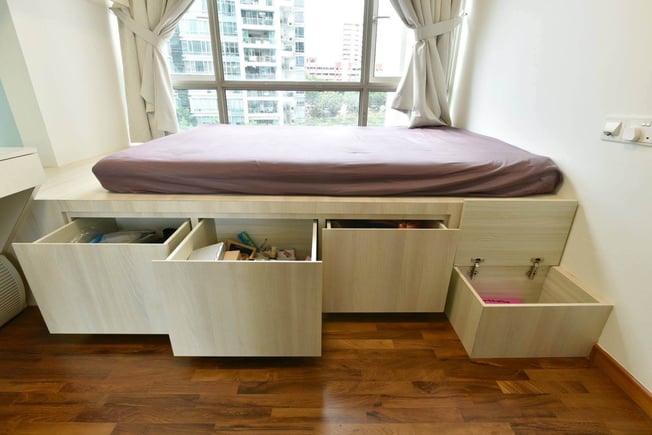 interior designer: ZL Construction | website: http://www.zlconstruction.com.sg/
Tip 5 Reduce walls & partitions
Less walls and partitions also can make your house look bigger. This is because the space taken up by walls is freed up and the connected space after removing physical barriers look much larger overall.
Interior designer The Association has many designs of this concept and below is one example. When some privacy is needed, you can simply add a thin screen. That can be a new nice look for your house too.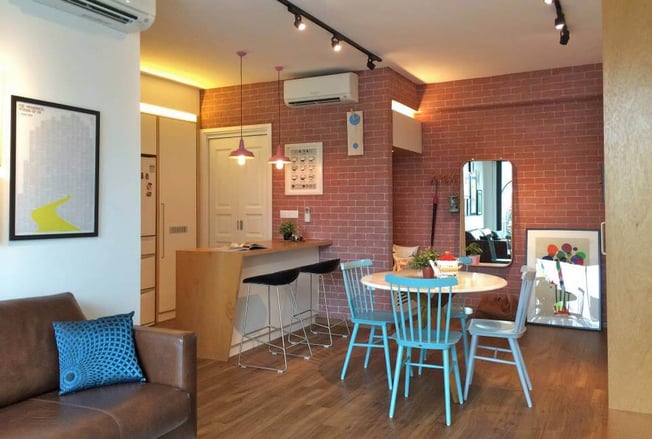 interior designer: the Association | website: http://www.theassociation.com.sg
Tip 6 Use minimum furnishings
Since space is limited, it is a good idea to keep only what is essential and functional. Less physical items, more room for mind to rest and run wild.
Yet, minimum furnishings does not imply we only have steel and bricks. Proper amount of delightful decoration is always welcomed since poetry is essential part of life.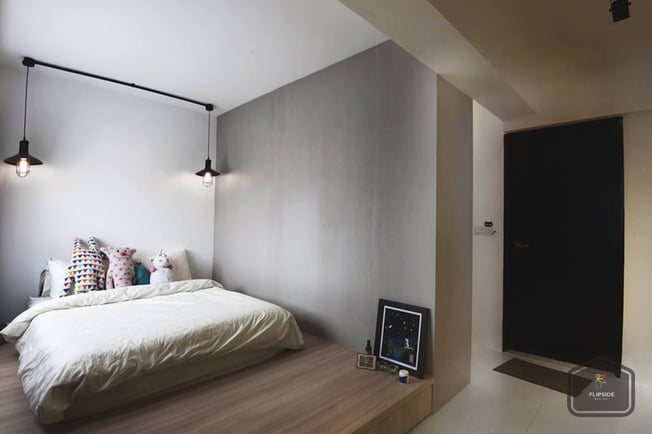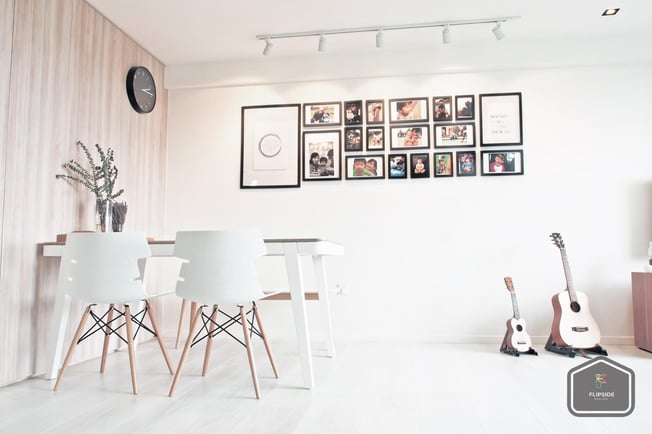 interior designer: Flipside | website: http://flipside.sg/
This interior design by Flipside only keeps necessary furniture and lighting and photo frames of the family, which become the highlight of the room. Without the photo frames, the space would appear simple and bland; with extra wall decorations, the room would look messy. Having one outstanding feature in one room is just nice.
Tip 7 Replace overhead lights with small lamps
Overhead light in the center of the room can focuses our attention to the room center where most furnitures are placed. This may create a sense of crowdedness. For rooms jammed with items, you are advised to use small lamps at different part of the room to reduce the jammed feeling.
The design by interior designer Spacesense is a good example.
Overhead light with its strong light can be harsh to eyes too.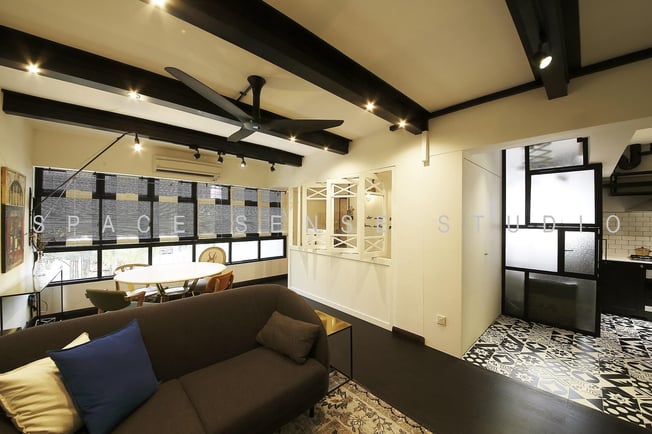 interior designer: Spacesense | website: http://spacesensestudio.com/
Tip 8 Lift bulky furniture up with legs
When 2D area of the house feels small, we can increase its perceived height to make it appear larger. Using furnitures with legs, especially long legs like chairs and tables, is a great way to do it. See the successful example by interior designer the Scientist.
Moreover, sleek legs and contoured furniture body creates more youthful and energetic impression and can effectively boost people's mood.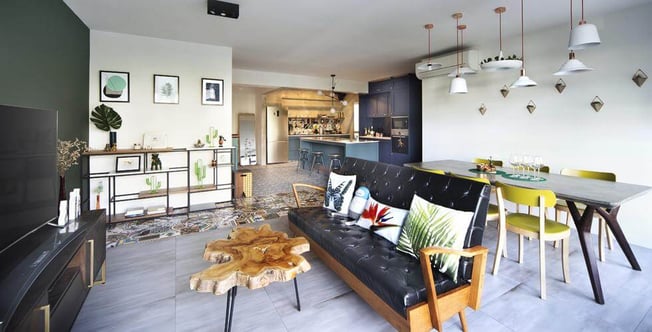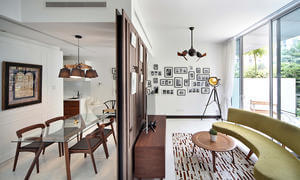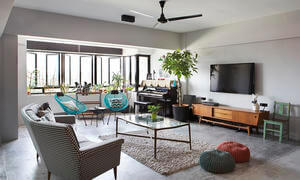 interior designer: The Scientist | website: http://www.thescientist.com.sg/
Tip 9 Use lofty bed
Lofty beds reduces the use of area in the room cleverly. If you have a study room underneath the bed, you can put up a curtain along the rim of the bed and do whatever you love to do in your cozy zone.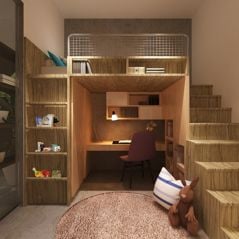 interior designer: GA+Partners |
website: https://www.houzz.com.sg/pro/gapluspartners/ga-partners

Tip 10 Engage eyes with fun design so they ignore the small size
Our eyes are like curious kids who can be easily distracted by vivid colours or unusual shapes. Create eye-catching elements in your house so eyes become too busy watching them to notice the crowded space.
Just look at interior designer Design Chapterz's work below. With such lovely design, would you mind the room is only 65 sqm?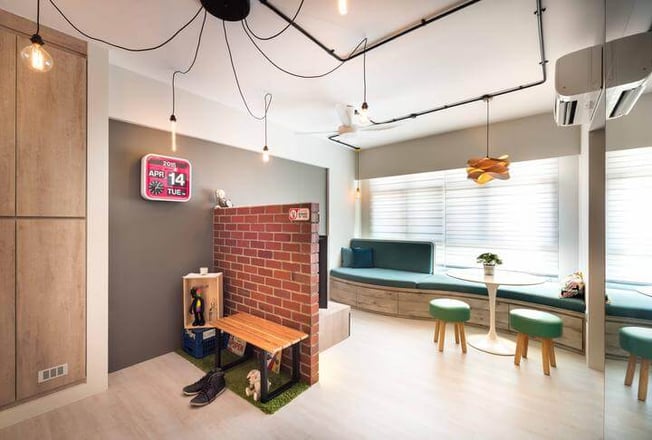 interior designer: Design Chapterz | website: http://www.designchapterz.com/
Conclusion
Here is a summary of 10 tips for small homes by popular Singaporean interior designers. Hope some of these will serve you well :)
Seeing is believing
Tip 1 Welcome natural light in
Tip 2 Add mirrors
Tip 3 Use light-coloured walls and floorings
Less is more
Tip 4 Declutter
Tip 5 Reduce walls & partitions
Tip 6 Use minimum furnishings
Lift up furniture, lift up mood
Tip 7 Instead of overhead lights, use smaller lamps
Tip 8 Lift bulky furniture up with legs
Tip 9 Use lofty bed
A change of focus, a change of mind
Tip 10 Engage eyes with fun design so they ignore the small size
Before your new house completes its renovation, if you need to store your furniture or after the renovation you need mover service, you may check out our service. Talk to us at +65 6220 0126 or

Photo Credit: Fun Design | Fun Design 2 | Fun Design 3 | Lofty Bed | Mirror | Mirror 2 | Natural Light | Lamp vs Overhead Light | Lamp vs Overhead Light 2 | Show some Legs | Show some Legs 2 | Show some Legs 3 | Declutter | Less Furnishing | Less Furnishing 2 | Light Color Wall | Light Color Floor | Reduce Walls |