As HDB and condo apartments in Singapore get smaller, we need to get smarter when furnishing our homes by thinking of the end rather than the start when interior designing. Looking 5 years forward to imagine all the items that one will accumulate with new additions to the family and as we purchase more things with each pay check. Ample storage space will be crucial to ensure that our home will still look neat and immaculate in 5 years to come. Therefore, here are 10 hidden storage spaces ideas you can work with your interior designer to get built into your new apartment for an organised home in the future.
5 Storage Space Ideas For Your New HDB or Condo
1. Use Your Staircase as Storage Space
Source: hzcdn
If you are one of the lucky ones with a high ceiling like in a loft apartment, you can utilise the bottom of your staircase for storage space. The most sensible type of storage for your staircase are ones that are close to your daily "activities" as per your home layout. If your kitchen is adjacent to your staircase, it will make sense to place your kitchen storage there. If your staircase is near the entrance of your home, a shoe storage will be idea. You can even build in a hide away stool for your family to don on their shoes easily before they leave the house.
2. Use the Base of Your Bed as A Bookshelf
Source: squarespace
If you are an avid reader that loves the smell of freshly printed pages, this is an ideal storage solution for you. In recent years, there have been many IKEA bedroom hacks to help new home owners with small spaces to save space and one of the most popular video is the one where an IKEA book shelf is transformed into a platform bed.
Watch here:
And when you get too many books and can't bear to ditch them, get box storage at Spaceship.
3. Compact Hidden Sliding Shelf in Your Bathroom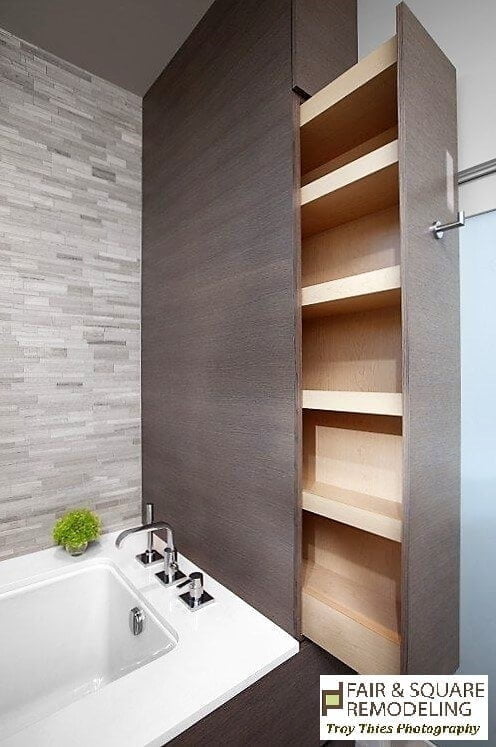 Source: homebnc.com
Frontward opening doors are obvious and tacky when it's fitted in a small space like your bathroom. Having a sliding drawer option will make your bathroom look sleeker and sets a more minimalistic feel. At home, my hidden bathroom storage lives behind my big mirrors and although, the design is subtle, my bathroom counter shouts a lack of storage space as truth be told, it can be quite a hassle to take out every day items from your storage space on a daily basis. Therefore, for bathroom storage, it might be wiser to have beautifully designed external storage box so that you can easily access your items.
4. Transform Your Door into a Rack
Source: cloudfront
During our research, we came across many pantry doors doubled as a spice rack. In Singapore, unfortunately we do not have the luxury of having a pantry. However, we can adopt and use our store room door as an umbrella rack or for as a rack our guest towels. To ensure children's safety, we will advise to place only light, non-glass items and rarely used items on the rack to prevent any mishaps when opening or closing the door.
5. Rolling Spice Rack Beside Fridge
This is one of the most practical storage solution for a small home. A thin rolling space rack that fits snugly next to a fridge makes accessing condiments easy and also saves your wider storage space for your pots and pans. These small bottles are better stacked than cluttered together as it makes the labels more visible. Placing it beside a fridge also allows one to take most ingredients at once, reducing the pacing back and forth. Cooking should be an enjoyable experience and it helps with an organised kitchen.
Bonus: Pull Out Kitchen Counter
Although this isn't a hidden storage space, this is absolutely genius. Being a cook in a small kitchen can be trying. However, this pull out kitchen counter stows away easily for storage and gives you more counter space when you need it. As each home's kitchen space is different, a contractor will be needed to customise specially for your kitchen and it's a life saver.
Even with enough storage planning for a home, we can still ran out of space in the long run. Thankfully, there are many storage solutions out there in the market that we can engage to store away our memories. If you don't have a car, Spaceship Storage will be the perfect solution for you.