Parents will know too well that the messiest time in our lives would either be when we were a kid or when we have kids. Little boys and girls at their most creative age can always find new ways to clutter the house, making us lose our space and lifestyle at home.
What's more, every day we are spending so much time looking for items that are hidden somewhere among kid's clutter or that can never be found again. Safety concern over scattering items with sharp edges also arises.
To our rescue, modern design and technology has found brilliant way to organise storage space. Consider the ideas below and you shall be ready to embrace more organized, spacious, and stylish life with kids. With your efforts in demonstrating a neat lifestyle, your kids will learn to be organized from a young age.
6 kids storage ideas that will magically change your home space and elevate your style to a new level
1. Hanging Organizer Inside the Wardrobe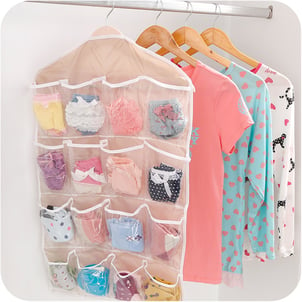 Little pieces of children's socks and underwear usually cause some headaches since it is hard to organize them neatly for easy-finding when we want to choose a matching piece next time. We can easily lose them too. Now comes this hanging organizer with many pockets made especially to store apparels, accessories and under garments.
Spend some time in sourcing organizers of right color and shape and your wardrobe can become an art to look at too.
2. Hanging Organizer on the Wall for Kid's Toys
Out of the similar concept, this type of organizers makes storage easier by allowing different items stay in different pockets. We can hang them on the wall or the door and store kids' stationaries, flash cards, etc. When we want to look for something, just take a peek into each pocket and we won't miss it.
It is also great time to teach kids to categorize items and put them into right pockets!
The hanging organizer below is made of fabrics. You can find organizers made of transparent plastics too. If you are starting kids to learn objects or letters, it is good idea to put each learning card into different transparent pockets which now becomes learning board.
3. Storage Shelf for Kid's Books
Another idea to de-clutter your kids' stuff while taking up no space is to attach shelves on the wall. If you are a minimalist, simply fixing some planks on the wall and you are good to keep books and your kids' mini-car collections. If you have spare basckets or plant pots, just re-use them for kids storage by hanging them on the wall. With some decoration, they can make your home more orderly and better-looking.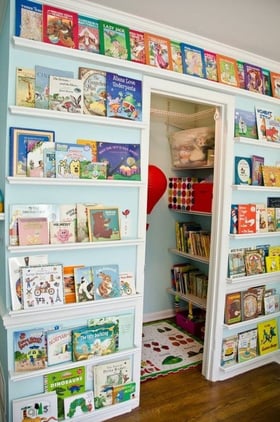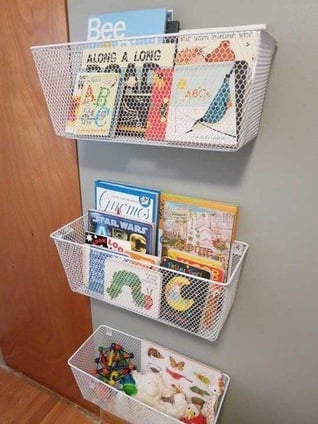 4. Storage Frame for Your Child's Belongings
If your house still has space for extra cabinets, consider DIY storage frames designed by Ikea for kids. As what we would expect from Ikea, they are light, simple, yet functional and they embrace great flexibility for you to decide on the number, size and color of storage box on the frame.
Time to get imaginative now. Buy larger boxes to store larger toys and equipments and smaller ones for children's books and legos. You can have a whole shelf white or create a rainbow in your house.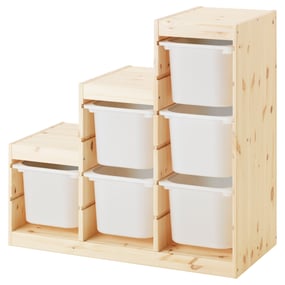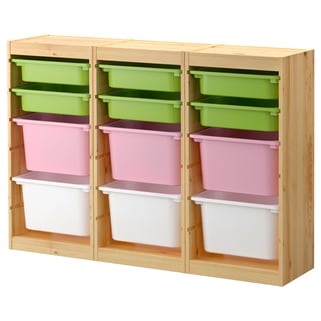 5. Storage Stools for Kids While They Brush
This idea is just amazing and vividly illustrates how efficiently we can utilize our space. If kids sit on the stool when they read, you can store books, notebooks, stationaries inside the stool. You can also store heavier stuff like gardening tools and toys thanks to the sturdiness of the stool.
6. Store & Collect Whenever You Want
Last not never the least, you may have kids stuff that clutters your home space but has no frequent use. You may want to engage valet storage service where you can de-clutter your house totally and collect items whenever you want with one tap on your phone. Sleek!

Hope these ideas give you inpiration in managing your space at home better with kids. If you have other ingenious ideas, please comment below to share, and cheers for our common good cause - parenthood :)
Photo Credits: Wardrobe Organizer | Wall Organizer | Book Shelf | Basket Shelf | White Ikea Frame | Colored Ikea Frame | Stool