Valentine's Day is the sweetest of all celebrations. To your wife or girlfriend who accompanies you through happiness and hardship, what is the best way of saying 'I love you'?
You may already have a good idea in mind. Or maybe you are still on the search. Whichever case, you are encouraged to check out these 5 SWEET Valentine gifts carefully picked up by Spaceship. You may find the just right one for your only one among 7.6 billion people in this world.
P.S. Let's name this gift list SWEET, and wish you sweet love forever :)
Scrumptious
Whimsical
Elegant
Explorative
RadianT
5
SWEET

Valentine Gifts for Your Wife or Girlfriend
#1 A
scrumptious

Valentine's dinner with your wife or girlfriend

No Valentine's Day would be celebrated without a romantic wonderful dinner together. Your effort in selecting a great restaurant makes this dinner a precious gift for your partner.

Here are two unique restaurants that has received good reviews.
Five-course authentic North Italian cuisine at Casa Tartufo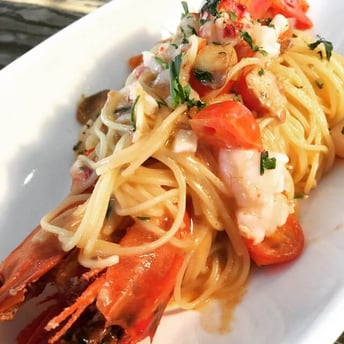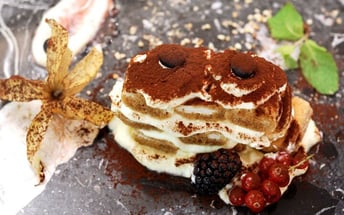 Course: Burratina (Burrata Cheese with a Truffle heart), Agnello (Char-grilled Lamb Chop with Truffle Potato puree), Chocolate Molten Cake with Hazelnut Gelato.
Price: S$208++/couple
Where to eat: 33 Erskine Rd, Singapore 069333 (google map)
Contact number: +65 6836 4647
Website: Casa Tartufo
What makes this restaurant so special, however, is that the philosophy running through the restaurant: they believe in do things their way and serving what they believe is the best possible and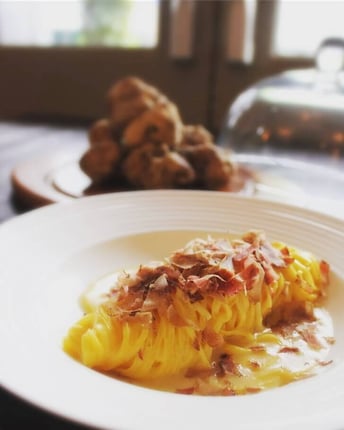 mostauthentic Italian food outside of Italy. Another highlight is one restaurant owner
Alex who was a finalist for the Best Restaurant Manager (2009) and Sommelier at the 2009 and 2012 World Gourmet Summit.
Photo (top to botom) : 1. Capellini with Sicilian red prawns in white wine sauce 2. Tiramisu 3. Signature Tajarin (egg noodle with truffle)
If Spanish cuisine is your type, please come to try El Tardeo situated in colorful Duxton district. Its price is also quite friendly considering its food quality.
Three-course Spanish set meal at El Tardeo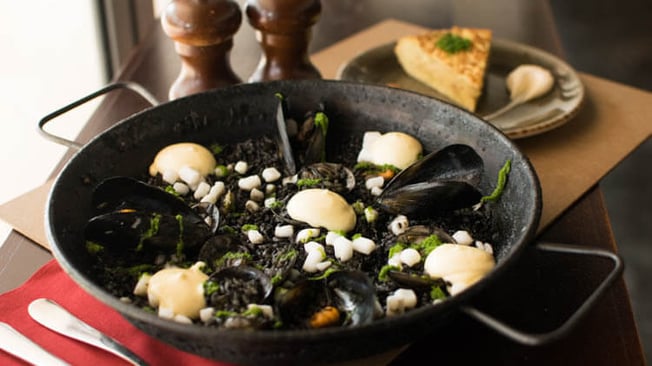 Photo: Squid ink paella with spanish omellete
Course: Scallop Ceviche, Grilled Pork Belly with Octopus, Salmon con Asparagus or Solomillo de Ternera (beef sirloin with peppers and potatoes)
Price: S$116++/couple
Where to eat: 20 Craig Rd, #01-01 Craig Place, Singapore 089692 (google map)
Contact number: +65 6221 6288
Website: El Tardeo
You can expect to be embraced by bright murals and rustic finishes, and a lively atmosphere in El Tardeo. Apart from delectable dishes, it is also famous for its potent cocktails. If you and your partner enjoy a little bit noise and crowd, here might be a good try.
#2 A
whimsical

Pandora heart key necklace for your wifeorgirlfriend

Photo: Pandora floating heart key locket necklace
Gift: Pandora Floating Heart Key Locket necklace
Price: S$249 - S$279
Website: Pandora
Pandora has its charm among ladies and this piece of heart key necklace locks in the most powerful magic.
Embellished with pink stones as if it was glorified by the eternal gem, the heart shape epitomizes your deep affection for her. And it is only her who has the key to your heart. This necklace would be one of the most epic love poems you have ever sent to her.
To add more fun, you can also open the Sterling Silver key locket and add in petite charms like roses and locks.
#3
Elegant

Choo Yilin ear studs for your wife or girlfriend

Choo Yilin is a local jeweller that masterful fuses Asian culture and contemporary jewellery. If you or your partner are mesmerized by the glow and color of jade, you may be amazed to find these designs below.

In Chinese culture, giving jade as a gift is your lifelong promise to protect your lady and her dedication to support you no matter good or bad in her lifetime. If you are giving jade as gift this Valentine's, please kindly receive our blessings for your lifelong happiness :)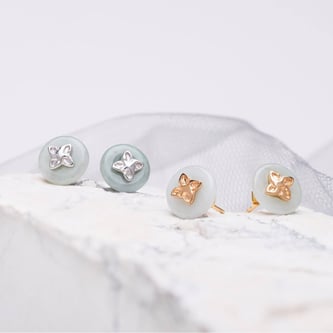 Gift: Emblem Jade Studs
Price: S$263
Website: Choo Yilin Emblem Studs
Crafted in Sterling Silver with coating in White Rhodium or 18kt Champagne Gold, these 9.5mm jade donuts are designed for comfort and everyday wear. Reward her if she is modest yet radiant inside and out, like the gentle temperament of jade.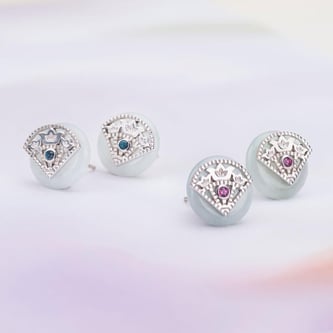 Gift: Shophouse Jade Studs
Price: S$457
Website: Choo Yilin Shophouse Studs
These pairs have a more expressive personality thanks to larger donuts and exquisite pattern. Modelled after the distinctive structure of a shophouse window, these jade studs will make your partner stand out with Singaporean charm.
Photo (top to bottom): 1. Emblem Jade studs 2. Shophouse Jade studs
#4
Explorative
perfume workshop with your wife or girlfriend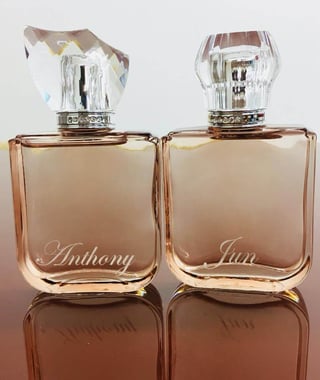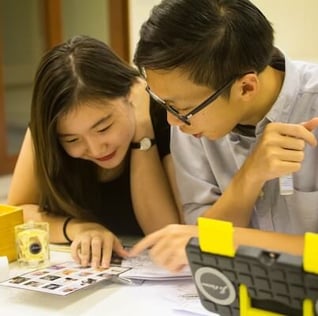 Price: $250orcouple
Duration: 2 hours
Location: show on google
Gift: Each gets 3 vials of 10ml & 1 bottle of 75ml.
Program:
Personality test to find your type of scent
Oils with scent of 'Native Orchids of S'pore
Free name engraving
Website: Jet'aime perfume workshop
Perfume is an eternal topic for most ladies. Bring her to the workshop to engage her while you can learn something about perfume too. Do you know what means top, middle and base notes?
You will also bring home 3 vials of perfume you made for yourself and an exquisite bottle of your favorite perfume for your daily use.
Photo (top to bottom): 1. Hand polished crytal bottle of perfume 2. Couple perfume workshop
What is the special bonus of the workshop?
Working on something together and understanding each other's personality and taste will surely bring you two closer. Long live your love :)
#5
RadianT

preserved moonlight rose for your wife or girlfriend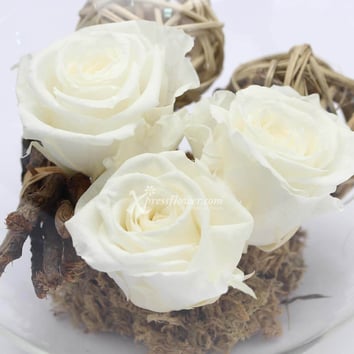 Sales Price: $135++ (U.P. 150++)
Website: Moonlight Dreams
Rose is the symbol of your love and may be your top flower choice for her. However you may well remember the pain when you saw your rose withered away in few days' time.
This year, why not consider preserved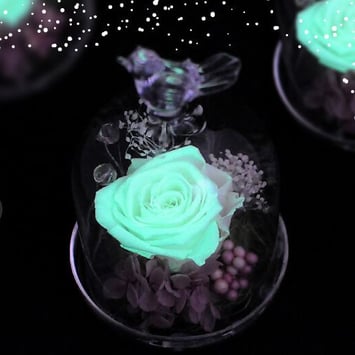 roses? Xpressflower is offering preserved moonlight roses in a jar which can be lasted for over 5 years without losing their texture and flexibility. Apart from the royal elegance of white rose, the most amazing thing about these moonlight roses is their fluorescence under beams of light in the dark.
Send her moonlight rose and tell her your love can lighten up her way through darkness towards ultimate happiness.
Photo (top to bottom): 1. Preserved Moonlight Rose Jar 2. Moonlight Rose under light in the dark
How do you like these gift ideas? What do you plan to get for your partner? Actually, there is another little yet SWEET gift you can give her:
Declutter your house so she can do less housework.
And Spaceship is here to help you.
Spaceship Storage can take charge of packing, transportation, storage and item retrieval for you this Valentine's, or any day you want to release her from the clutter at home.
This could be a unique, caring gift to her :)

Photo Credit: Moonlight Rose | Moonlight Rose in Darkness | Spaghetti | Tiramisu | Casa Tartufo Capellini | El Tardeo | Heart Key Necklace | Jetaime Perfume | Couple Perfume Workshop | Emblem Jade Studs | Shophouse Jade Studs