Do you travel often? When is your next trip? If you are like many people who love travelling and frequently set off for new explorations, it is almost essential for you to master the art of packing.
Spaceship has collected most useful travel hacks to make your packing easier.
Before we go straight to packing tips, we found something interesting to share: almost all packing tips can be summarized in 4 words:
Roll, Fill, Reduce, Remove
Remember these 4 words and you are ready to pack most types of items in a space-saving way. But how? You can see illustrations in the packing tips below.
Packing Tip 1: Roll Your Clothes Before Stacking Them
In most cases, rolling clothes before stacking them in the luggage can save more space than folding them, since rolling compresses clothes and rolls of clothes cover much less surface area than folded clothes.
Here's how you can roll your clothes in a nice shape.
How to roll T-shirts
1. Lay your T-shirt on a flat surface and smoothen out wrinkles with your hands.
2. Fold 2 sleeves into the center of the T-shirt.
3. Roll the T-shirt.
How to roll pants
1. Lay your pants on a flat surface and smoothen out wrinkles with your hands.
2. Fold the pants in half.
3. Rolle the pants.
How to roll skirts
1. Lay your skirt on a flat surface and smoothen out wrinkles with your hands.
2. Fold the two sides of the skirt into the center.
3. Rolle the skirt.
For those interested in trying new techniques, you may want to try rolling T-shirt, pants together with socks. You might be amazed by how much space this method can save!
Packing Tip 2: Fill Empty Space in Your Clean Shoes
Shoes can take up lots of space. If you are running out of luggage space, stuffing small items such as cleanser or socks into your shoes can help.
However, we may wish to ensure shoes are clean, or at least they are free of smells before we stuff things into them. Otherwise we may regret later.
A simple and effective improvement on this method is to seal your stuff inside a ziplock bag so they are protected from the smell and dirts inside the shoes.
By the way, shoes need to be carefully wrapped and placed in the luggage, too. I had painful experience when my new patent leather shoes got scuff marks in the luggage because I just threw them in the luggage without any protection.
Packing Tip 3: Save Space by Folding Underwear Nicely
Ladies, a bit more attention here please. This tip is made especially to help you save more space in your luggage and protect your bras from being crushed.
There are quite a few methods to pack bras. You may choose the one that looks easiest for you to do.
Packing Bras - Method 1:
Stack bras.

Fold bras in half.

Fill the space between cups with socks or underwear.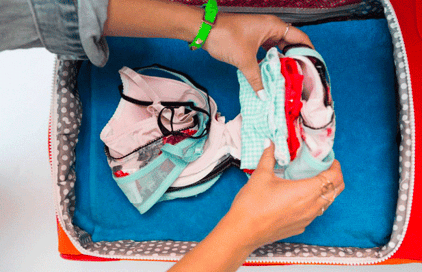 Packing Bras - Method 2:
Twist 2 halves of the bra in the center.

Tuck one cup inside the other cup, so the two cups are nestled together.

Put underwear or socks inside the cup to help maintain their shape.
Packing Tip 4: Use Small Bottles for Toiletries
Shampoo and shower gel bottles are too bulky for your luggage. Reduce the size with small bottles. If we do not have small bottles at home, we can always find nice cheap ones in Daiso or Miniso.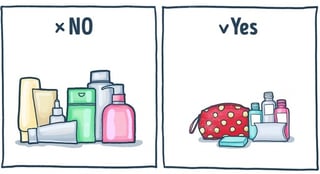 Additionally, since there is always a risk of bottle explosion inside the luggage, we should cover the bottle mouth with plastic film before we screw the top on. This would ensure us worry free over liquid spill in the luggage.
Packing Tip 5: DIY Disposable Containers with Straw
Alternatively, we can self-make disposable liquid containers from straws. Their petite size does not require much space and you will even have more and more space along the way when you throw used straw containers away. Do you still remember the travel set of shampoo disposable bag? This trendy method is exactly the same, just now you are able to store more types of things from toothpaste, shower gel to solids like salts and pills.
To make the disposable container is easy. Here is how.
Materials to make straw container:
straws, tweezers, scissors, hair straightener or anything that can seal the opening of the straw
Steps to make straw container:
Cut a piece of straw of proper length.
Seal one opening with hair straightener.
Fill the straw with shampoo, gel or others.
Seal the other opening.
Congratulations, you are done!
You can find video demo below.

Packing Tip 6: Digital Over Physical Whenever Possible
A good way to maximize space in luggage is to remove all unnecessary items from the packing list.
Thanks to the digital technology, book lovers can always replace physical copies with digital version in handy gadgets.
Packing Tip 7: Wear Bulky Stuff If Possible
Snowy winter place like Hokkaido are always attractive for many people, but the bulky clothes to bring can be a nightmare for the limited space in your luggage. Waterproof boots, thick winter coats, scarves and gloves... these few things would take up a whole luggage's space yet simply by putting them on, you are ready to go with one fewer luggage to take care of.
Better still, since most airports and planes are air-conditioned, it would be all right if we just wear thick clothes during the flight.
Does it ever happen to you that you bought too many things during the trip and realized that you needed more space at home to keep them? No worries, this happens to many people. Now many companies in Singapore such as Spaceship offer flexible storage, where you only need to pay for the space you use. Better still, you can arrange for item collection and return any time via app or web.

Sources: How to Roll T-shirt | How to Roll Skirt | Pack Bra | Use Small Bottles for Toiletries | Roll Clothes with Socks (Video) | DIY Liquid Containers with Straw (Video)