Here's an article on Spaceship Storage - to tell people why we do what we do.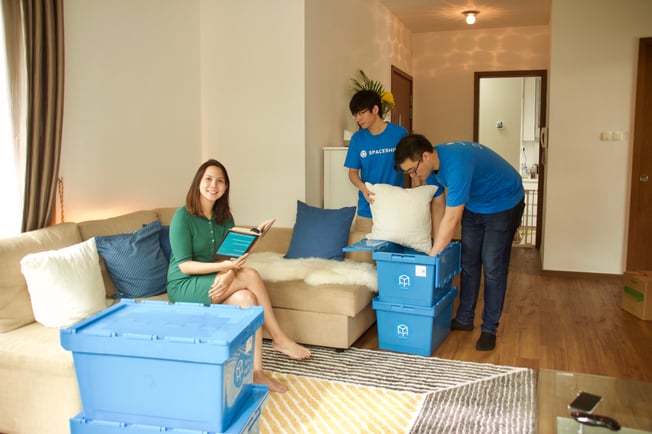 How Spaceship Started
Spaceship Storage started in January 2015 when our founders realise how painful and difficult it was to move back home after living on their own for a couple of years. To downsize and attempt to fit everything from a 2 bedroom apartment into a one bedroom can be quite a challenge. There was many things that was worth keeping but just could not fit into this new space without cramping one's style. There wasn't an ideal solution in the market at the time, even though self-storage unit providers are rampant throughout Singapore. The hassle of driving to and fro to a self-storage unit without clarity of what's actually stored in it wasn't an option at that time for a somewhat young, busy professional working at a corporate job. That too could cramp one's style.
So they looked outside of Singapore and found startups like MakeSpace and Clutter in the US and bazzinga! Spaceship Storage was born - a valet storage with an online dashboard of all items kept in storage.
And since then, Spaceship has helped many in Singapore to free up more space and get their lives moving.
Spaceship's Customers
Spaceship serves many different types of people in Singapore and here are some of the more common types that finds our offerings useful.
Those that have served National Service loves us because they could cheaply store their enormous field packs and retrieve it only when they need to prepare for their reservist.
Students who live in hostels were our first and early adopters. They swamped to Spaceship like bees to honey. To them, we were the most sensible solution due to our flexible nature - pay only for space you use without having to commit to a long term contract and we pick up anywhere islandwide (in Singapore). They could store their items with us while they went back home over the summer. No car and only a small effort was needed.
Then there are our bulk customers, new home owners and renovators. With our professional movers and flexibility in terms of pick up and drop off location, they don't have to worry about their furniture or household items. They get to work with their contractors for as long as they like to make sure that they get their dream home realised. Storage starts at only $60 per month, a small price to pay for the extra time.
Spaceship also caters to another niche group of people - The expats. They love us because they don't have to figure out where Ang Mo Kio or Tampines is on the Singapore map while setting up and settling into their new home here in Singapore. They can easily increase their storage space over Christmas when they suspend their apartment lease and take the family home and set it up again when they are back in the new year. Some expats that are on the management level get relocated frequently but they know in their heart that in the near future, Singapore is where they will want to build their lives and choose to put all their belongings with Spaceship until they are back for good. Some even say, they appreciate our service because they can arrange for a collection through email within a day and can do so from any laptop in the world.
Our mission
This is why we do what we do. We want to give people the freedom of mobility through convenience. To be able to own things but not having it obstruct growth. Growth in terms of family size, career progression or living space. We are obsessed with space. We believe that happiness in living is both an art and a science. Comfort is derived through an aesthetically pleasing environment accompanied by an area where a community can be built upon. We advocate the sharing economy where less waste is produced through common used assets.
There are so many reasons why one will require storage space, and some aren't happy reasons. It can be due to the lost of a loved one or an end of a relationship. It has been comforting for us to know that we can make this process easy and fuss-free for those in emotional pain. The whole process can be done online and our packers does the job of dismantling and assembling it again.
Life in operations can be tough at times. Stories and memories shared by our customers about their live experiences makes our work a lot more interesting and when they are happy with our services, it makes what we do even more rewarding.
Conclusion
So, that's the story of Spaceship Storage. An article inspired by the book "Start with Why" by Simon Sinek. Watch the video below to hear more about how Spaceship was started and where we intend to go.
Till next time, have a blast!
More about Spaceship Storage