As an employee of a real estate business, I have the privilege to work in any of my company's co-warehousing spaces. While it felt nice for me because I could have a change of environment whenever I got bored, I never really immersed in the experience of working there as a true e-commerce entrepreneur, which was primarily what our co-warehouse was designed for.
Thus, the packing stations, photography studios, storage units and dispatch zones there, were all just extra spaces for me to walk around and take a breather whenever things got a little too intense.
All that changed when my boss asked me one day if I wanted to interview FarmCity, a user of our space who runs an urban farming education and consultancy ecommerce business. I jumped at the opportunity as I wanted to learn if those spaces were really essential for their business operations.
Farm City's founders are an interacial couple consisting of a Singaporean named Kelly and her Mauritian husband named Wesley. They warmly welcomed me into their work storage unit where they spoke to me and the Work+Store team about their experience on running their business entirely within a work storage unit and how a Co-warehouse helped to support their business operations and save cost.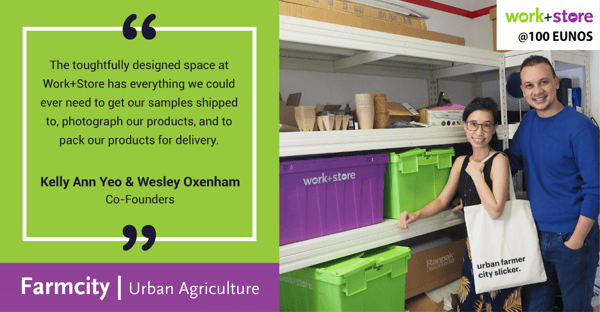 Kelly & Wesley smiling brightly in front of their grow kit products in their Work Storage unit. The pair started their business in hopes to spread the knowledge to urban dwellers on how to do sustainable urban farming.
How Farmcity Began Their Journey
It all started when the duo realised there were inequalities in the global food system. Perplexed by this, they set out on a mission to revolutionise the global food system with their sustainable farming solutions. Together, they tried to create eco-friendly grow kits for urban dwellers to grow vegetables with.
"Our biggest challenge was sourcing for truly sustainable raw materials that are natural, eco-friendly, is no to low waste, and at a price and quantity that is affordable for small businesses. We have had to go back to the drawing board many times to rethink how we can bring our products to our customers in a sustainable manner."
Eventually, they succeeded after numerous testing rounds by real farmers. There was positive feedback that their tools are reliable and simple to use.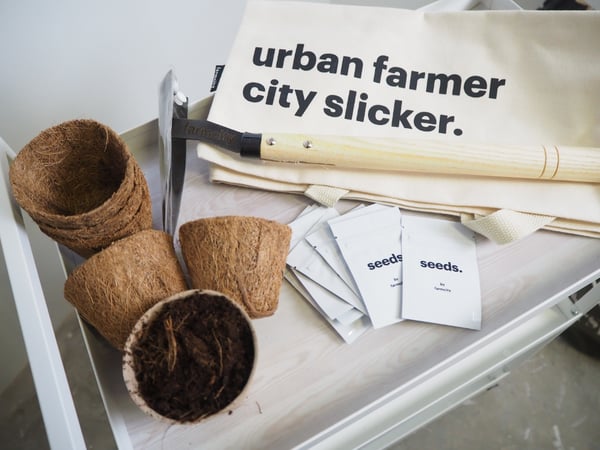 Farm City's grow kits
The couple then moved on to open their first learning center in Mauritius which has a farm used to educate others about Agripreneurship (Short for agricultural entrepreneurship). Their space later transformed into a co-farming area for like-minded agripreneurs. The duo later went back to Kelly's hometown, Singapore, to expand their business.
Being a city with the highest urban population in Southeast Asia, most residents have little farming knowledge and think that green fingers are needed to plant any sort of greenery.
Kelly firmly believes that that is a myth.
"Everybody can grow, if they are given the right tools." she added.
She hopes that with Farmcity's tools, Singaporeans can grow and access nutritious organic foods that might otherwise not be available in Singapore or are non-organic. Farmcity also value adds by guiding their customers at every step along the way, on how to grow their own organic vegetables from their balconies.
Beginning Their Operations In Singapore
Farmcity required a workspace to handle their core operations as well as a nearby storage unit for their goods to enhance fulfilment efficiency. They compared a number of storage providers but found Work+Store to be most suitable after considering its potential for allowing them to scale their business in future and the support present in the facilities for a startup like them.
"The dock for doing paperwork really sealed the deal for us as it offered a 24/7 storage unit, and storage units of varying sizes so we could upgrade as we grow. Also, the Co-warehouse there met our needs best as a growing startup," Kelly explains.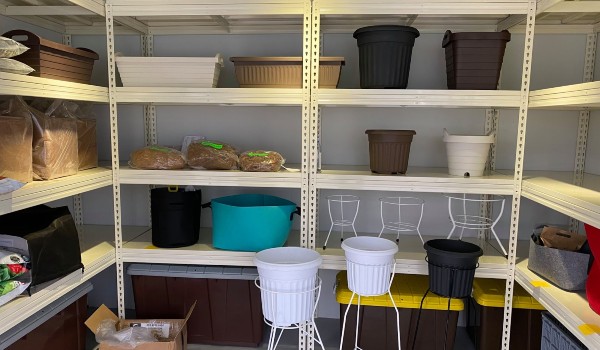 The storage area in their office
Apart from storing their growing kits in Work+Store's storage unit, they also signed up for a hotdesk in Spaceship's Co-warehouse in the same building, which came with the benefits of extra spaces like meeting rooms, packing stations and dispatch zones for them to conduct their fulfilment and meet clients. There are even onsite warehouse assistants in case users need help with loading/unloading their goods, pick packing or inventory management.
What They Liked Best About Work+Store & Spaceship's Co-Warehouse
Work+Store has the cheapest self storage units with flexible terms and multiple storage sizes starting from as small as 7sqft. Users can scale based on demand by adding or decreasing self-storage units. With 24/7 CCTV surveillance and card security restrictions, users can feel at ease that their goods are kept safely. The added co-warehousing option however, is currently only located for Eunos and Ang Mo Kio.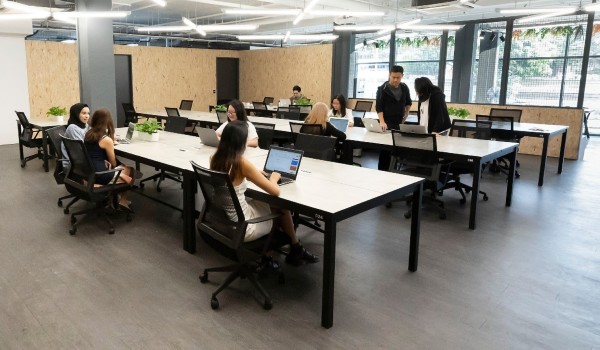 The Fixed Desks at 100 Eunos Spaceship co-warehouse facility beside Work+Store
When asked about what benefits they liked the most, they raved about their working experience in the Co-warehouse. Wesley mentioned that he liked how the cheerful and helpful Spaceship Co-warehousing staff brought a great vibe to the place and made their business journey more fruitful. The jovial and motivational atmosphere was also contributed by the other friendly community team of entrepreneurs around which he could learn and be inspired from.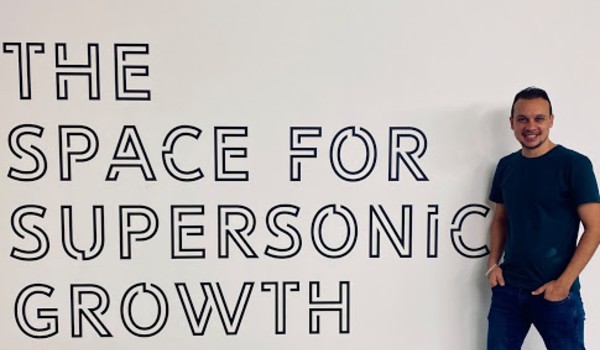 Wesley posing at the Spaceship Co-warehouse beside its iconic tagline
Kelly on the other hand, thanked the team by leaving a 5 star review on their google page which read:
"So glad we found the perfect place to work from! It has everything you could need to grow your company from - great co-working space, fulfilment and warehousing facilities, and well-equipped meeting rooms. Best part of the place is the awesome team - Joey, Wei Ming, Angeline and Elaine - who bring such a great vibe to the place and are always ready to lend a helping hand."
Overall, they described it as a very comfortable and fulfilling experience using the Work+Store storage unit & Spaceship's co-warehouse for managing their day-to-day business tasks.
If you want to see if Spaceship's co-warehousing is suitable for your business, feel free to book a tour!
Other Benefits of Working There
Renting a self storage unit at Work+Store gives tenants the benefit of air conditioning, powerpoints, lighting facilities and utilities. The unit is bare, and users will have to bring in their own shelves and furniture to work or store there. Users can opt for the cheaper, non-air conditioned units. The storage unit doors are large for easy access and there is a cargo lift so they don't have to lug their inventory up the stairs.
To help support their tenants' businesses, eligible companies may even apply for their zero deposit guarantee and to enjoy extra cash flow for their other business expenditures. Insurance can also be settled directly with them via their multiple coverage tiers.
Kelly recommends that users who like a more hassle free option, can opt for the work storage units in Spaceship's co-warehouse instead. In the Co-warehouse, private offices and caged storage units come fully equipped with shelves and furniture. There are even shared workstations like hot desks or fixed desks which can be rented cheaply and are ideal if you only need a small space for your operations.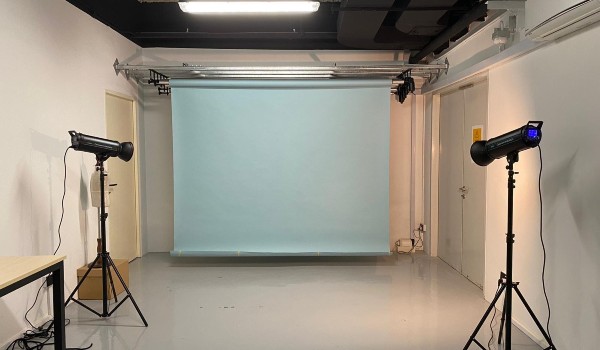 Spaceship Co-warehouse's Photo Studio
Additional Co-warehouse facilities include an equipment bay with pallet jacks and trolleys, a photo studio with a lightbox and other equipment for product photo shoots, and a packing station with packing supplies for them to immediately pack their products and send out for delivery. The dispatch zone there gives added convenience to users who can just leave their parcels there for collection by their delivery partners without having to be physically present. Storage units in the Co-warehouse are located beside the loading dock so you won't have to move them across such a long distance.
As entrepreneurs new to the e-commerce space, Kelly also notes that the co-warehouse is:
"A very thoughtfully designed space that has everything you could need to get your samples shipped to, to photograph your products, and to pack your products for delivery. The icing on the cake is the exclusive rates with a delivery partner."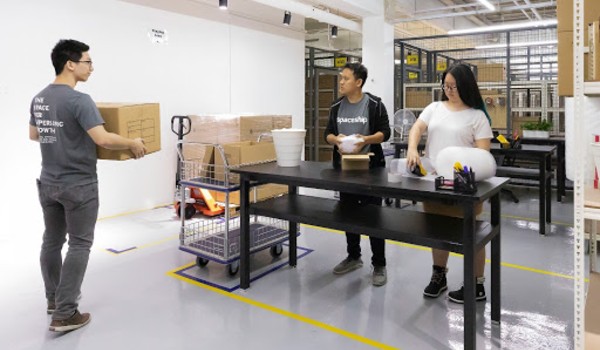 Spaceship Co-warehouse Packing Station
The multi-purpose spaces brought about by Spaceship and Work+Store allowed them to manage their various business activities under a single roof. This has made setting up their business locally a lot easier as inventory and other tools within the space are stored easily and accessible nearby; without the need to travel to a separate facility to retrieve their goods. The whole process is rendered a lot more efficient and they are able to fully focus on educating and providing sustainable solutions to their customers.
Wesley sums up their experience with this:
"It is a dream for a startup to be able to manage all its different activities from one place, especially one that is so conveniently located between two MRT stations just a short walk away."
To find out more about Co-warehousing, you can visit Spaceship's website:
Alternatively, read this article for more details on what co-warehousing is about!