In late April 2020, overcooked fans rejoiced when the developer team for their beloved game released a new series known as moving out. The game involved players to move furniture to a truck within a certain time limit, allowing them to smash glass objects and destroy electronics in the process.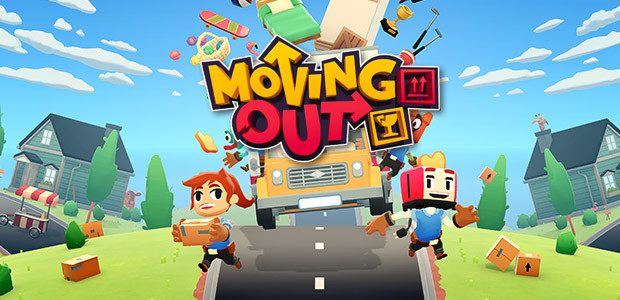 If you're moving out in real life however, you're going to need way more than that 3min time restriction in that game. Online guides recommend starting the moving process around 2 months before the move date.
In a fast moving world however, planning for a move way in advance might be a luxury for some. That's why we have condensed online guides down to 4 weeks in a checklist at the bottom of this article that you can print out and fill below.
What To Do Before A House Move
4 Weeks Before
Email moving providers for quotes
Do note that some of them charge by vehicle type, others by hour and some by per item. Check if the provider has additional services you might need like packing, provision of wrapping materials or storage facilities.
See if it fits your budget. It is better to choose a more expensive but more reliable provider than one with a cheap quote but has a reputation for not being careful with your items. A site surveyor will typically come down your house to assess your items before giving you a custom quote. If you're happy with it, arrange a date for the move and inform all parties involved.
Read more here on what happens during a site survey!
Notify people about your new address
These can range from your children's schools to your pet's vet so they will send future mails to the correct address. The last thing you want is the new occupant of your old house reading your confidential letters. Transfer your gym memberships to affiliated outlets near your new house as well.
Other agents you might wish to contact include:
Consult your insurance agent
Let them know you're doing a house move so that they can recommend some policies to insure your big ticket items. You've got time to look around for more options that might be better suited to meet your requirements if you start this early. Do note that some movers cover insurance in their package already (eg. Spaceship) so if you want a hassle free process.
3 Weeks Before
Order packing materials and tools
Apart from protective materials like shrink wrap, corrugated paper, boxes and bubble wrap, you might also want to get tape, scissors, label stickers and measuring tape. Movers like Spaceship offer some free packing materials in their package so it would make more value for your buck to choose them.
Start with rarely used items like travel items, decorations, seasonal sports attire or tools. Only pack those items you use on a daily basis nearing the move date in case you'll still need to use them while you're at your old home.
It is also advisable to pack all essentials you'll need immediately in a bag so you wouldn't need to fumble through your boxes for them when you arrive. Remember to include items like toiletries, medicine and some clothing in that bag.
When packing, label the boxes on which room in the new house you're going to be unloading them to as well as boxes containing fragile items so the movers will be extra careful when handling them.
Throw away those items you no longer need so you'll have less items to carry along. For bulky items like sofas or pianos that you don't intend to use anymore, you can contact bulky item disposal companies. You should not dispose of them illegally in common areas as they might attract pests or be an obstruction.
Although some town councils offer bulky item removal service, it is not for house moves so they'll probably not help you. If you don't want to spend time contacting the disposal companies, you'll be pleased to hear that Spaceship offers this service as well. If you engage them for the move, they'll handle this for you.
You might also want to create a sell pile to put on carousell or donate them. Try to finish perishable items like frozen foods or fresh vegetables as it's not going to be very convenient to bring them over.
2 Weeks Before
If there are some items you still need but do not want to bring over to your new home (perhaps due to insufficient space in your new and smaller house) you might want to consider getting a storage unit. Spaceship offers cheap storage space from just $30/month with no long term commitments.
Make travel arrangements for your kids, pets or dangerous items
Your mover is definitely not going to transport your pet and thus, you might need to put them at your close friend's house during the move and before you arrange everything nicely in your new home. You might also want to get a babysitter for your child because you might be carrying heavy items during the move day and you wouldn't want them running around and blocking your way.
Another restricted item by movers are flammables, corrosives and irritants. Do safely dispose of them or think of how you want to bring them over to your new place if you still intend to use them.
Send your car for servicing
If you're using your own vehicle for the move, you wouldn't want them breaking down on move day after so much preparation. Even if you rent Spaceship Movers vehicles for your furniture, you might still be driving your kids to your new house separately. Thus, you might want to consider sending it to the car servicing provider.
1 Week Before
Notify your utilities provider
Notify them on your move date so they'll know when to switch on the power in your new home and discontinue the one in your old home. You wouldn't want to continue paying for utilities that the new house owner of your old house is using. Neither would you want to be stuck without water and electricity when you arrive at your new home.
Types of utilities companies you might want to contact:
Water

Electricity

Gas

Phone

Internet
It might be good to start a list of items you're going to bring over so that it is easier to keep track of whether you have missed them out when loading into the moving vehicle.
Another list you might want to make if you're free is an information list for the new occupant about to stay in your old house. There might be some details they need to know about your house eg. A certain switch in the house is prone to short circuits. Include your contact number in this list and put it together with your old house keys to hand to them.
Disassemble large items and Defrost your freezer
If you want your current cabinet in your new house as well, you should start disassembling it so that it takes up less space and is easier to carry. If you're unsure of how to disassemble them, you can leave it to Spaceship's experienced movers too.
For bulky items like your freezer, you should try to defrost it because ice may build up on the walls. Once they melt and the water leaks out, it will wet the rest of your furniture in the moving truck.
Move Day
Determine the order of items to load into the vehicle
You might want to group items in the same section of your new home together so that its easier to unload. Alternatively, you may want to load in large items last as you may want to unload them first in your new home.
If your mover helps with loading the items, you can consult their expertise on the loading order of items. If you're doing it yourself, check out this safe lifting technique so you don't injure your back when carrying items.
Clean your new house before filling it up. You might even consider doing fengshui rituals like turning on all lights and appliances immediately.
And that's it! You can consider introducing yourself to your new neighbors and throwing a housewarming party. Do also drop by the post office for the next 2 months to pick up any diverted mail from your old home, which tends to happen when you forget to update address records for some organisations.
To start, print out the checklist below so you will not miss out any steps. Contact Spaceship Movers at +65 9632 3719 for a move quote today!