"I went for a Site Survey today! Do you know what that is?" I casually asked my boyfriend yesterday while updating him on the daily happenings of my life.
"I know! Is it the one where you go to your competitors' companies to know your market competition?" he quipped. Amused by his reply, I explained to him that a site survey happens before a customer gets a quote for their moving or storage service.
How I Ended Up Having To Go For The Site Survey
My boss suggested that I should follow the sales team for their site surveys as a way to better understand our customer base as well as our Spaceship services. That's how I received a calendar invite from my colleague, Wei Ming, to tag along for the survey he was going for.
According to Wei Ming, our client wanted to store some of their office furniture that were rendered unused as a result of social distancing during this Covid 19 period.
That was the use case for most of our corporate clients, but other companies also use Spaceship's storage services for storing documents or marketing collaterals. "Some even use our professional moving services for office moves," he elaborated.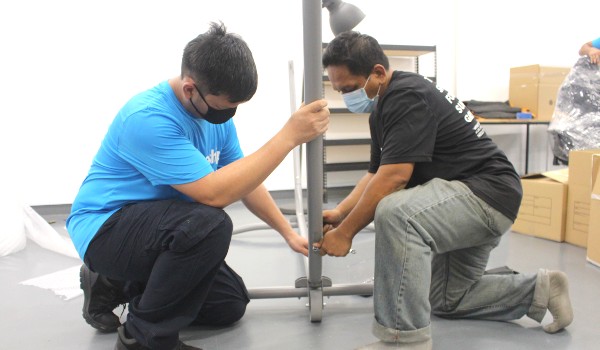 Spaceship professional movers helping to disassemble furniture during Wah Banana's Office Move
Will the client's office have a nice pantry? Will I get to see good looking agents that are commonplace for that industry?
Thoughts like this ran through my head, which I'm very sure was not the intention of my boss when he sent me for this trip. I tried to condition my mind to treat this more seriously and be tuned to a learning mode.
If you're on a learning mode like me and would like to find out more about Spaceship's moving services, click the button below!
Understanding A Customer's Needs During A Site Survey
Weiming and I stepped out of the taxi after a ride that caused me a bout of motion sickness. We had arrived at our client's office with starched white walls and a rather clinical aesthetic.
A bubbly, middle-aged woman introduced herself as our host for the day and led the way to where the unused furniture were.
On the way there, Weiming tried to better understand our host's storage and moving needs by asking things like:
What kinds of items were they intending to store?

When would they require the storage?

How long would they intend to store for?
By the time he was done with the questions, we had reached the meeting room where rows of unused chairs were placed. The office chairs also occupied the adjacent meeting room. Our host sighs that the rooms need to be freed up so meetings can happen in proper venues.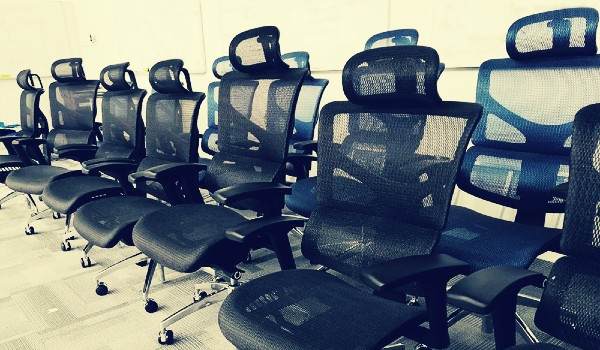 Imagine chairs like these but arranged in a disorderly fashion.
Assessing The Furniture & Accessibility Issues While Surveying
Weiming proceeded to inspect the condition of the chairs. It is an important step for site surveyors as this protects the storage company from being responsible for any prior defects.
He recommends not to stack the chairs during storage (which some clients wish to in order to reduce the amount of storage space they require).
His rationale was because the base of the chairs were movable and stacking them might cause some damages. Should they decide to do so, the storage company would not be liable for any damages that might arise.
Finally, he scribbled down some calculations in his notebook and summarized that the total storage space required would be around 150sqft. The 2 rooms actually added up to 200sqft but he mentioned that as the rooms were not filled fully, he could quote them the lower price relating to 150sqft.
He then gave our host a rough estimate of the monthly storage fee and noted that the chairs would require 2 trips of a 14ft truck to move to storage.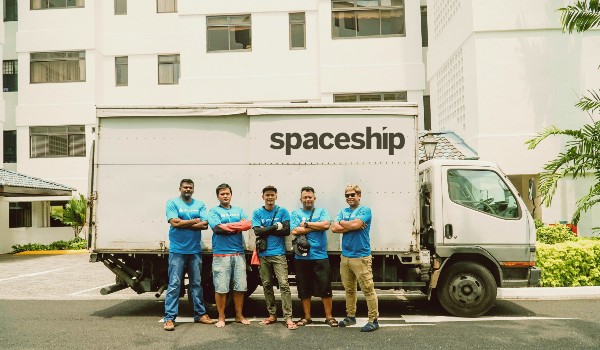 Our buff movers posing in front of Spaceship's 14ft truck.
Assessing The No. of Trips Taken To Move To Storage During The Site Survey
As Spaceship offers moving services as well, he mentioned that it would be more hassle-free to engage Spaceship for their moving needs and that we could charge a more value-for-money fee if they were to get our package of storage and moving service together.
At this point, I was just in awe at how he managed to assess the total storage space required and finally understood why his name card read "Storage and Moving Specialist" rather than just a Sales Executive.
Weiming mentions that he could increase the discount given to her if she stores for a longer period of time. Our host seemed already really pleased with the quote we provided her and thanked us for our time. She added that we could send her the official written quote for her to get her management's approval.
The rest of the details, such as confirming the exact move date, would be communicated to us later. She understands the need to book our professional mover slots soon, since they are usually packed.
Online Site Surveys & Other Accessibility Costs
As she waved us goodbye, I joked to Weiming that it is quite "Shiok" for him to get to take so many rounds of taxis for his site surveys. He shook his head and sighs that it's very tiring for him to do so.
These days with Covid 19, most site surveys are done via zoom but they can be hard because of computer resolution issues and the inaccuracy of measuring the sizing of items via the screen.
They are also unable to assess the accessibility factors of the location (which will affect the moving quote) and can only resort to google imaging the place and determining from there. This can be inaccurate as google images only show certain angles of the building and usually, only images for the more well-known locations can be found.
For non-corporate customers with less items to store, they would usually just send us a list of their items.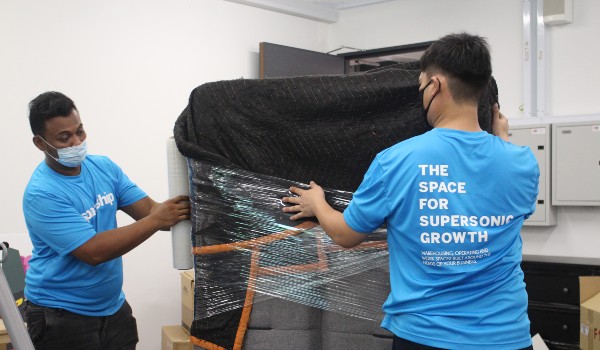 Spaceship movers doing protective wrapping on a sofa, with moving blankets and stretch film.
That has its problems also, as certain items require more details like the material and the item value. This is to determine if there are additional charges due to extra protective wrapping required. The venue might also incur some accessibility charges like the long push fee, which needs to be borne by the customer.
If there are no lifts for the office (common for companies located in shophouses), the industry practice would be to charge for staircarry fees. For locations with narrow staircases, he would then have to liaise with the operations team to send more experienced movers or more protective wrapping materials in case the items get damaged.
"A sales role is stressful. Underquoting a customer might cause them to be overcharged when the final bill comes out due to additional unforeseen costs. They will then complain and might make a scene online. Over-quoting would also not be ideal as you risk losing the business of that customer." Weiming laments.
My Overall Experience
That trip was more enriching than I had anticipated. Still, I would have liked to go for site surveys where the client has a greater variety of items to be stored. I feel that learning experience would then have been richer as different items need to be assessed differently.
I slumped back into my office chair when I finally returned to my company's co-warehousing space, and wondered how many years of experience it would take me to have that kind of professional knowledge Weiming has.
Then, my mind drifted off to non-serious matters again like why didn't I ask if I could take one of those free packets of Ang Pao at the client's office so I could decorate my house with. Better luck next time.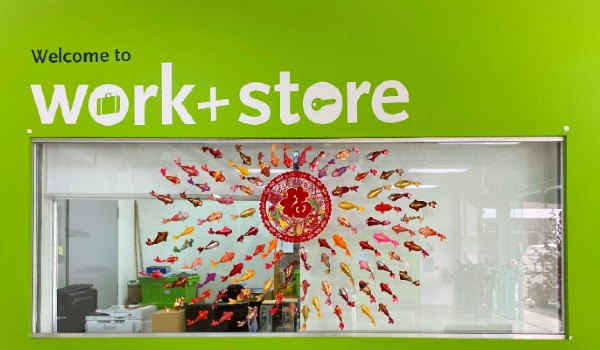 The 3D ang pao fish decoration that I want to decorate my house with, as shown in Work+Store Ang Mo Kio site where Spaceship's Co-warehouse is located.
Ready to check out our storage prices?
Meanwhile, if you're looking to get your own free quote for any items you'll plan to store, click the button below!
Alternatively, read more about how Spaceship compares with the rest of Singapore's storage providers in terms of affordability.
We also did a price comparison of our moving services with other companies here!