When we think of coworking spaces, most would immediately be reminded of Wework. Gorgeous layouts in areas where food and transport options are easily accessible, getting a membership there will naturally command premium fees as well.
However, this may not be the most ideal option for start-up companies or small businesses on a budget.
In this article, we will compare some of the most affordable co-working spaces in Singapore and evaluate in terms of the types of entrepreneurs that would be most suitable for each of these spaces.
How Much Does Coworking Prices In Singapore Cost In 2020?
Hot desks can cost anywhere from $180/mth to $580/mth while dedicated desks can range from $300/mth to $880/mth. Price range heavily depends on location. Private office prices depend on the pax it can occupy, but the larger the office, the per pax cost is driven down as well.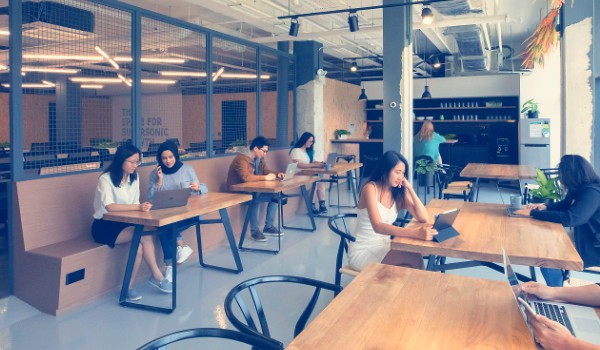 Image: Spaceship Co-warehouse Hot Desk Coworking Area
Coworking Prices In Different Parts Of SG
As most people would probably have an ideal location they wish to work at in mind, we've split Singapore into 5 locations so you can directly compare coworking options within that area.
North
(Prices stated are in terms of monthly fees per pax)
Coworking Space
Location
Hot Desks
Fixed Desks
Private Office
Spacelabs by Spaceship
Ang Mo Kio
$200*
$250*
From $350*

The

Workshop
Ang Mo Kio
$220
$300
From $650
DOTT
Woodlands
$180
$300
From $800
| | | | | |
| --- | --- | --- | --- | --- |
| Coworking Space | Location | Hot Desks | Fixed Desks | Private Office |
| CoQoons | Harbourfront | $380 | $650 | $800 |
| Ezco | Boat Quay | $358 | $378 | $363 |
| Wework | Beach Centre | $550 | $825 | $1100 |
East
| | | | | |
| --- | --- | --- | --- | --- |
| Coworking Space | Location | Hot Desks | Fixed Desks | Private Office |
| Spacelabs by Spaceship | Eunos | $200* | $250* | From $350* |
| Mox | Joo Chiat | $300 | $400 | $500 |
| The Common Ground | Arumugam Road | $390 | $490 | $590 |
West
| | | | | |
| --- | --- | --- | --- | --- |
| Coworking Space | Location | Hot Desks | Fixed Desks | Private Office |
| Justco | Westgate | $398 | - | $800 |
| Regus | Jurong East | $400 | - | $380 |
| Pure House | Holland Village | $400 | $450 | - |
Central
| | | | | |
| --- | --- | --- | --- | --- |
| Coworking Space | Location | Hot Desks | Fixed Desks | Private Office |
| The Hive | Carpenter Street | $450 | $750 | $900 |
| Trehaus | City Hall | $580 | $880 | $800 |
| Found8 | Prinsep | $345 | $770 | $750 |
Spaceship's Coworking Space is the Cheapest In Singapore
Spaceship prices are cheapest amongst the locations!
For the north area, Spaceship's prices are 17% & 46% lower than the next cheapest provider for their fixed desks & private offices respectively.
For the east area, Spaceship's prices are 33%, 38% & 30% lower than the next cheapest provider for their hot desks, fixed desks & private offices respectively.
And it doesn't mean that their spaces are shabby just because they are the cheapest. The main reason for having such low prices is because the co-working option is an added option available only to users who are using the warehouse storage space to store inventory products.
Are you an E-Commerce business / Lazada Seller / Shopee Seller?
If your answer is yes, then you have to check out Spaceship's facilities. Its an all-in-one space that has coworking combined with warehousing and logistics. Businesses that sell products (especially Lazada and Shopee Sellers) can process online orders, pack orders, ship/deliver these orders to end customers, and store inventory all within the same place.
Everything is set up to make fulfilment easy.
Visit Spaceship's Coworking Facility Here:
So who uses coworking spaces? Let's look at what types of coworking spaces there are in Singapore.
What Types Of Coworking Spaces Are There?
Apart from the typical coworking spaces with standard amenities like meeting rooms and event spaces, there are other types of coworking for more niche workers:
Fulfilment Friendly Coworking Spaces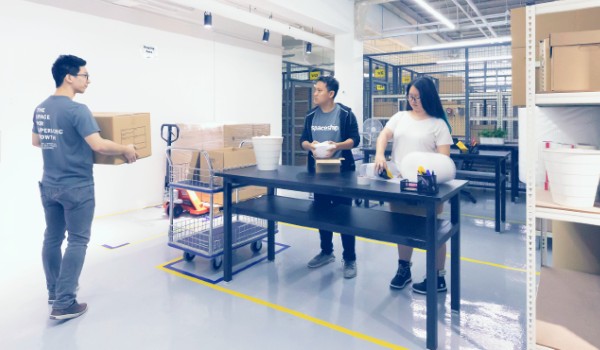 Spacelabs by Spaceship is Singapore's 1st Co-warehouse facility designed to let ecommerce distributors or retailers seamlessly store, ship and receive all within the same space.
Spanning over 20,000sqft, the industrially themed space comes with not just your usual coworking spaces but also shared operating facilities, equipment and onsite logistics.
It boasts cozy meeting rooms, packing stations for order fulfilment, photo studios for product photoshoots, shared equipment for your warehouse and storage units for inventory.
In addition, there's dedicated warehouse assistants and essentials like label printers and wrapping supplies, both of which are needed in the pick packing process before mailing out orders to customers. Being a member also allows you to enjoy cost savings with discounted last mile delivery services.
Website: www.spaceship.com.sg/spacelabs

Email: sales@spaceship.com.sg

Locations: Keppel Road, Ang Mo Kio, Eunos

Amenities: Dispatch Zone, Event Space, Equipment Bay, Loading Area, Storage Units, Packing Stations, Phone Booths, Photography Studio, Pantry, Meeting Rooms, Workspaces
Family Friendly Workspaces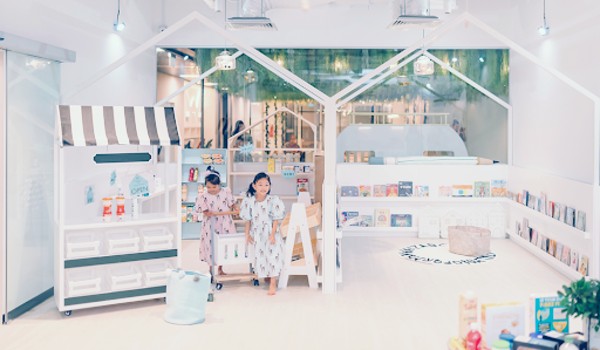 Trehaus is designed for the working parent to have a perfect work life balance. Located at the bustling North Bridge road, the coworking space comes with a child care for mamas and papas to work in proximity with their child.
And it's not just an ordinary care centre. According to press reports, it has a top-notch silicon valley-inspired curriculum that imparts life skills to the young ones.
The space even has a Trehaus club with activities for all ages - an in-house cafe and play area filled with toys for your kids to explore. Say goodbye to the days where you had to sacrifice your career for your family and find support with other like-minded parents.
Website: https://trehaus.co/

Tel: (65) 9843 8077

Email: hello@trehaus.co

Amenities: Preschool, Workspaces, Pantry, Conference Room, Childcare
Creatives' Workspaces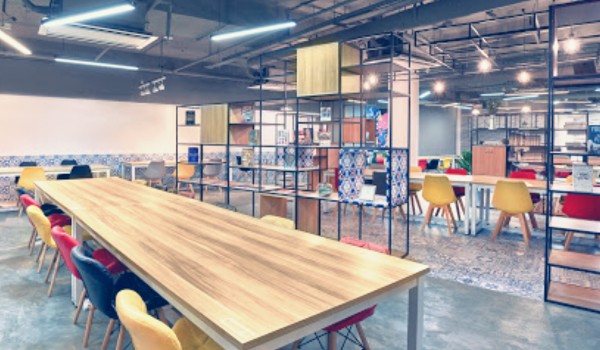 Mox is the go-to co-working space if you're a creative. Makers from a wide spectrum of industries gather here to collaborate and create amazing pieces with the 3D printers, industrial-grade sewing machines and laser cutters.
Their free design software subscriptions for members and retail showrooms to showcase artworks are also major draws.
Take in the buzz of creative energy from the community around you and perhaps be inspired to make the next in-thing. Did I also mention that there are crafting workshops for you to better your skills?
Website: https://www.themox.co/

Tel: (65) 8482 7876

Email: hello@themox.co

Amenities: Board room, Auditorium, Workspaces, Photography Studio, Meeting Rooms, Showroom
What Affects The Prices Of Coworking?
Duration Of The Workspace Rental Lease
While the cost for day passes is definitely the lowest, opting for longer durations will get you a lower rental cost per day to compensate for the higher commitment level.
To entice you further, some spaces even offer 1 month free promotions if you sign up for more than 6 months. Of course, their discounts might increase if you're signing up for a bigger sized area.
Location of the Coworking Space
For coworking space nearer to prime districts like CBD, the rental prices would be a little steeper.
That said, the value in terms of accessibility to transport and food options brought about by those locations would sometimes more than compensate for the increase in prices.
Additional Amenities & Benefits Beyond A Shared Office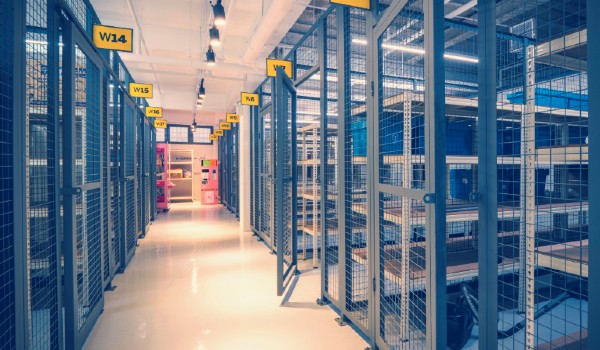 Image: Spaceship Co-warehouse Storage Units
Be it storage units or special business discounts, there are some extra perks that are invaluable to businesses and should be accounted for before signing up impulsively to the next cheapest available workspace.
Other general benefits that you should lookout for in co-working spaces include being able to hop into the space of any of their locations or free passes to events that they organise.
Aesthetics & Design Of The Space
The aesthetics of a space will affect the vibes you feel within it, while the the overall layout design will affect whether the environment is conducive and whether it makes your work more productive.
More people will naturally opt for the more conducive coworking spaces which will drive up demand and subsequently prices.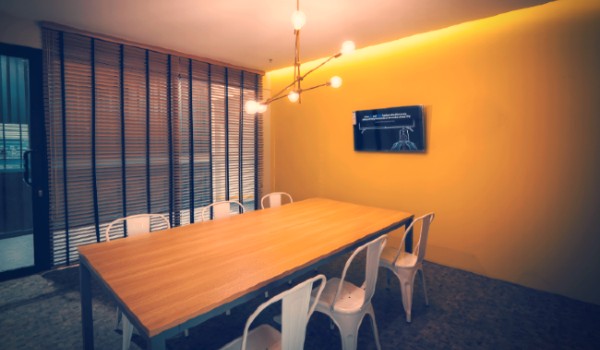 Image: Spaceship Co-warehouse Meeting Room
We feel that the best way to measure this factor is by the experience of users within the space. To us, this is best reflected by google reviews which we've pulled out into a neat table.
Coworking Space
Google rating
Negative Reviews
Positive Reviews

Spacelabs @ Eunos

5.0

Nil

- Good service & welcoming

- Has storage space

- Cheap food nearby

- Nice & conducive office

- Free marketing to newsletter for my business

- Cheap last mile delivery

- Free & sheltered parking

- Has photoshoot area

- pantry has wide selection with even gourmet popcorn

Mox

4.4

- Carpark only takes chipped cashcards, no one responds when calling for help

- not very accessible

- good restaurants below

- can get inspired here

- nice interior design

- strong maker community

Trehaus

4.4 (facebook)

- all kids split into 2 classes regardless of age

- no special curriculum for kids

- warm& accommodating staff

- great place to keep an eye on kids & to have parties

- convenient location

- bright & cheery design

Wework @ Beach Centre

4.6

- cost a lot

- can get very noisy when they hold their events once in awhile

- plenty of food options around

- very nice vibes with music and beer

- great facilities like shower, meditation room and ping pong table

Justco@ MarinaOne

4.0

- expensive rates to book meeting rooms

- charges you for moving out refurbishments & take very long to return deposits

- noisy & crowded

- only 2 small meeting rooms with no privacy

- design isn't work friendly→ too high & unadjustable chairs, no space to put lap tops in phone booths

- convenient location

- helpful staff

- clean space

- well furnished pantry

Found8 @ Prinsep

4.3

- guests from affiliate coworking spaces are not allowed to access despite confirming visit in advance

- internet doesn't work properly with no technician around

- could have more power points installed

- spacious event area

- cosy setting with startup & entrepreneurial feel

- clean place but cafe doesn't open on weekends

- nice and quiet place

- easily accessible location

The Hive @ Lavender

4.5

- cafe makes you pay for basic drinks like tea and coffee. (only 1st cup is free)

- not easy to find on map

- daily pass is very expensive

- no pantry so no fridge

- limited food choices

- cafe only sells drinks

- cosy & industrial space

- ample phone booths & meeting rooms

- eco-friendly interior design

- outdoor space with greenery that can double up as a park

- have movie screening events

- free meditation sessions

- affordable prices

Regus @ Wisma Atria

4.0

- cramped space

- business lounge is usually full by noon

- decently quiet with private pods

- great location

- clean & nice environment

- friendly & helpful staff

The Common Ground

5.0

Nil

- spacious & cosy

- wonderful community management

Ezco @ Clark Quay

3.7

- reviewers are complaining about the attitude of the owners but ezco states that it is slander

- only 1 toilet

- no frills & affordable

- ideal conducive location

- staff is helpful & respectful

- amazing rooftop views

Coqoons

4.9

Nil

- has a great view

- warm & welcoming staff

- close to mrt

- nice & quiet space
Pumped up to start searching for co-working spaces?
You could start searching for co-working spaces from gorrila space, fly space or coworker.com.
For e-commerce retailers looking for offices with storage space, we have written an article on that too.
Lastly, if you're interested in booking a tour at Spacelabs by Spaceship, click the button below!
We hope you find the right space for your needs!