I remember the first time I shipped out an item on Carousell. I joined the snaking Singpost queue to the counter, not knowing that I could just go to the machine beside me to print out the corresponding stamp based on my parcel weight. Just like that, I wasted my queuing time.
Travelling also made it pretty inconvenient for my shipping experience. I would have to factor in my transport cost to Singpost along with the shipping fee. That was when J&T came to my rescue.
J&T simplified the shipping process for me largely by enabling me to schedule a pickup of my parcel directly from my doorstep or my office. In fact, this method of last mile delivery is more suitable for actual ecommerce companies who have deliveries in larger volumes than the average layman.
The J&T dashboard allows for the addition of multiple users to manage the shipping, making it ideal if you have an operations team that will be handling all your shipments.

It might be slightly more complicated than just bringing to Singpost, but trust me, it'll bring you a lot of convenience once you get the hang of it.
Summary of Steps To Use J&T Platform For Last Mile Delivery
Create a J&T account

Create the order

Input the order details

Schedule the pickup date & address

Input delivery address

Key in item details

Print & paste the airway bill label
See below for more details on each step of the process.
1. Creating A J&T Account
This step is straightforward. You'll need to create an account and verify your email to access the dashboard. Do note that you can only make one account per email. Don't worry, you will be billed only for the parcels you ship and not for account creation.
2. Create An Order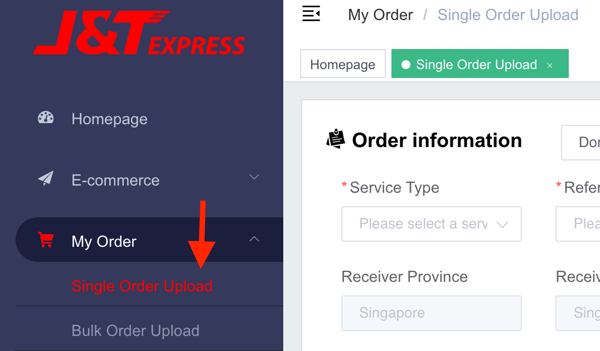 Hover over "My Order" on the ribbon at the left of the dashboard, and click "Create Single Order Upload".
3. Input Order Details

These are the following details you can select from:
- Service type (depending on your subscription, you might only be able to select local deliveries)
- Whether you want cash on delivery
- Reference number (tracking number or airway bill number)
4. Schedule Pickup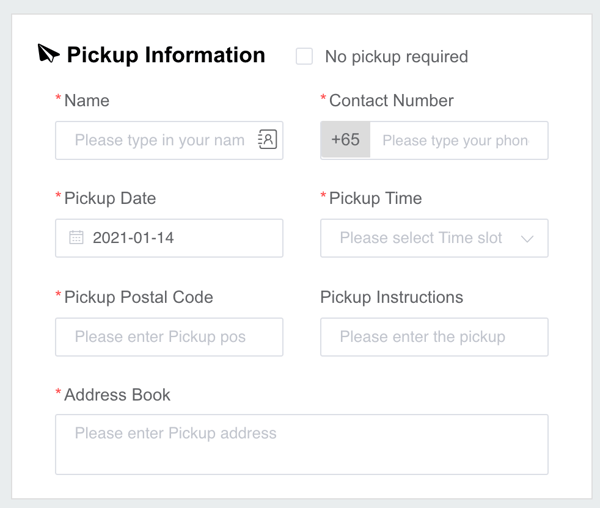 Check the "No pickup required" if your goods for shipping have yet to arrive. You can always schedule a pickup later on in the "Order management" section. Additionally, fill in your pickup address here as well as provide contact details of the person that the delivery guy can take the parcel from.
This is where the convenience comes in, if you have regular customers and always need to deliver to the same address, consider adding them into an address book so you won't have to key in all details from scratch in future. It also goes without saying that you'll need to select a pickup date & time so you'll know when to expect the delivery guy and be at the location to pass the parcel when he arrives.
5. Input The Recipient Information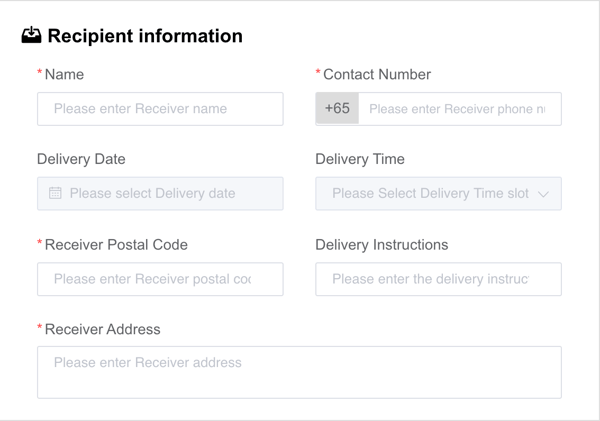 Similarly, you'll have to key in the recipient details and any special delivery instructions eg. "leave it at the doorstep and ring the doorbell when delivery is done" if you want to avoid all forms of human contact during Covid 19. Its the same logic as ordering delivery with Grab, the food has to be labelled with a recipient or no one will know who it's for.
6. Key In Item Details

Finally, you key in the dimensions and weight of the item. You can choose to declare your item value if you're worried about your package being lost or damaged. This will increase the maximum liability of the delivery provider in the event that that happens, but bear in mind that it will also increase your shipping costs.
A net delivery charge will be calculated at after keying in these details, and if you're agreeable, you can proceed to submit the order.
7. Print & Paste The Airway Label

After submitting your order, you will be prompted to choose a size for your airway bill that you wish to print. I usually go for the A6 size as this size is suitable for label printers. (if you own one).
You will find a tracking number on the airway bill generated which you can use to track your parcel delivery status. Print it out and paste it on your parcel.
How to print the J&T labels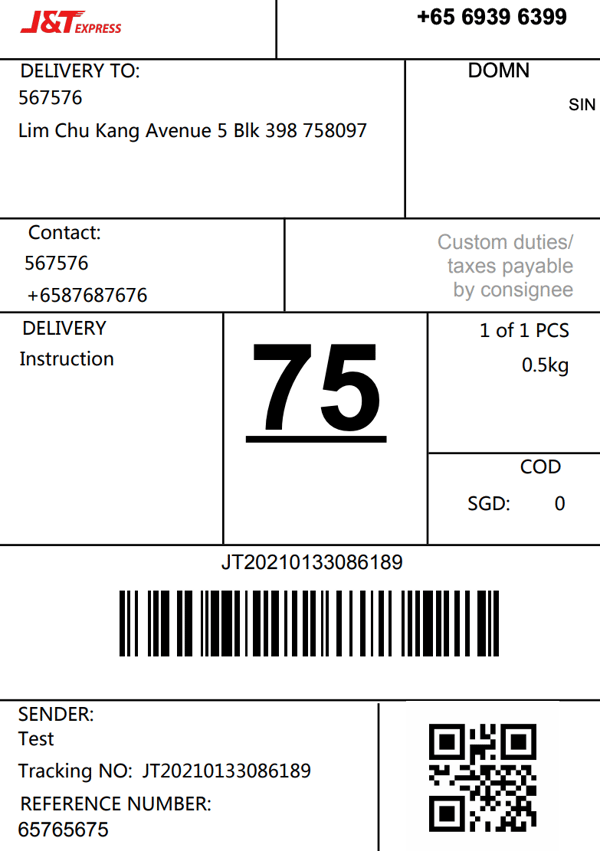 Lucky for you, there are standard printer options in case you have no budget for that expensive zebra label printer. There's also an option to print 4 stickers in a single A4 paper, so you can take pride in yourself for being environmentally friendly (a.k.a my type of option).
These are the options:
- Zebra Printer
- A6 size label stickers
- Standard Industrial Printers
- 1 single sticker in 1 A4
You don't have to print the labels immediately after order creation. Just hover your mouse over "Order management" on the dashboard whenever you're feeling mentally ready and click "Order overview". Then, select the order and click "Print". From there, go ahead and choose whichever sizing suits your palette.
From the process above, we can see that the downside of it is that someone always needs to be present when the courier arrives to pick up the parcel, (if you don't want your parcel to get stolen before getting picked up, by leaving it unattended).
An alternate hassle-free shipping option
I have good news for you if you're just starting out your ecommerce business. Consider renting a space at a work space in one of Spaceship's co-warehouses (aka Spacelabs).
The place has not just storage units to store your physical inventory, but also packing stations and supplies for you to do order fulfilment on the spot. Members also enjoy bulk rate discounts on last mile deliveries by J&T express. They even have onsite dedicated warehouse assistants to help you with your pick packing and inventory management. Free up your time by depositing your parcels in their dispatch zones where J&T drivers will pick up for deliveries.
In short, it's got everything you need.
Packaging guidelines for shipping parcels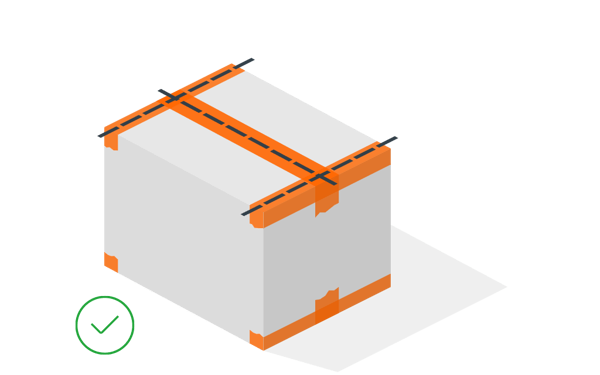 Here are a few tips to prevent your parcels from getting rejected by any shipping courier:
Pack tightly and snugly to prevent movement of items inside the box during delivery. You can use bubble wrap, newspaper or styrofoam peanuts to fill any empty space.




Use at least 2-3 stripes of tape that is at least 2 inches wide. Apply the "H" taping method.




Cover or remove any old labellings that are no longer applicable




Ensure barcodes are fully flat & visible, & they do not bend over the edge of the packages.

Consider placing a copy of your shipping label in the box in case the outer label falls off.




You'll know it's securely fastened if your package can withstand a table height tumble.
Does the steps above sound daunting? Join Spacelabs and our friendly staff will guide you at each step along the way. If you're looking to find out more about Spacelabs, read our article!
Alternatively, book a tour to see our Co-warehousing space.