The sharing economy for real estate space has transformed the traditional model of long term commitments, fixed size, pure-play real estate space into a differentiated product that helps to eliminate market inefficiencies.
After co-working, co-living and cloud-kitchens, the next thing in the world of shared spaces is co-warehousing.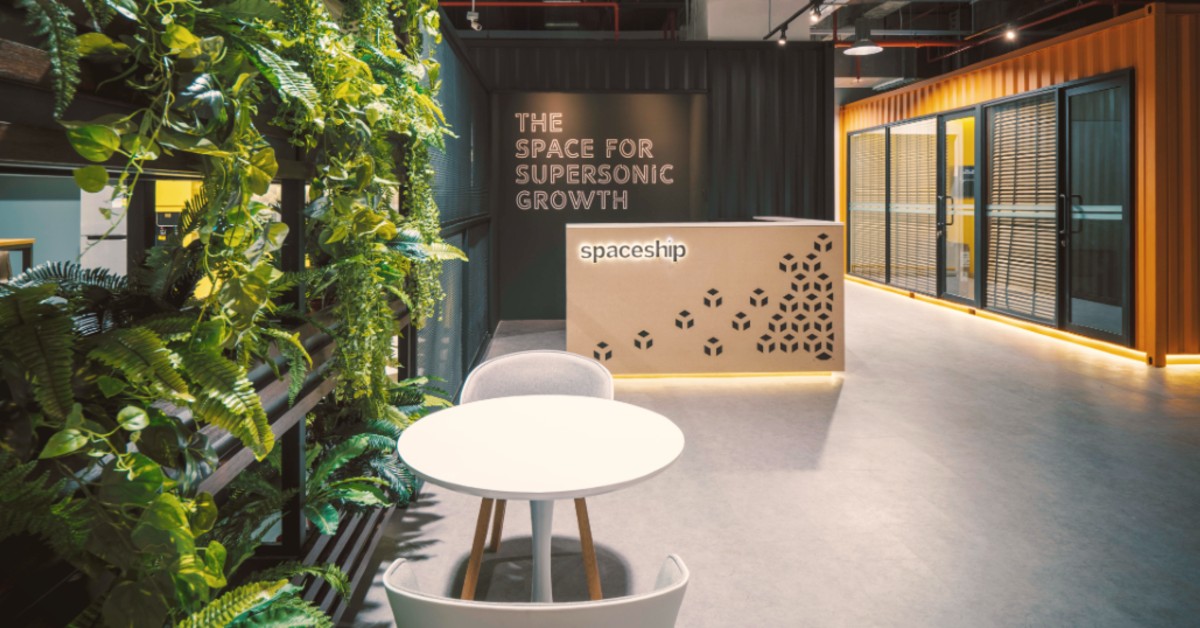 Cowarehouse - Cheaper Coworking Space Combined With Warehouse Storage And Shared Logistics Services
Co-warehousing (collaborate warehousing) is a warehouse space that is specially designed for start-ups and businesses to work, store, operate and ship merchandise.
Co-warehousing combines co-working space (with all its standard amenities) with warehouse storage space, shared operating equipment, shared operating facilities and shared logistics services.
Not only does the co-warehouse have facilities that are tailored for warehouse storage and order fulfilment, workspace rental prices are also significantly cheaper.
Here's a very simple comparison:
Comparison of average monthly rental price of a cowarehouse space vs a typical coworking space:
| | | |
| --- | --- | --- |
| | Cowarehouse | Coworking Space |
| Hot desking space | $250 / month | $450-$700 / month |
| Private room for 3 pax | $1,800 / month | $2,100-$3,500 / month |
Why typical co-working space for rent is not well suited for e-Commerce
Now, co-working is great for small business. The headache of renovation, purchasing furniture, setting up Internet, setting up utilities account are resolved. You get to work in a cool and well-designed office space. You have the option have scaling up and down. There are meeting rooms.
But... as good as co-working spaces are, it does not cater well for businesses who sell physical products. Here's why
Unlike co-working that is typically found in centralised locations, co-warehousing is located in industrial areas where buildings are designed for warehousing activities and where the costs are typically lower.
Coworking spaces are expensive on a per sqft feet basis. Typically, monthly fees are based on the number of head count. The private rooms do not have sufficient space for storage of inventory.
If you were to replace the headcount space with storage shelves - well, then thats a very expensive way of storage.
The space is just not suitable for goods movement and logistics
Moving inventory on pallets, trolleys and roller cages within a coworking facility?
Thats just not possible. The flooring of the coworking space is not setup for such goods movement.
Plus you run the risk of damaging the very nicely designed space. Also, the unloading of new inventory and handing items to last mile delivery partners are going to be a challenge.
Need For Logistics Manpower And Equipment
You'll need space for packing orders, logistics equipment to move inventory, shipping weighing scale, etc.
There will be times when you might have to move heavy items, or pack extra orders during peak periods. Getting manpower and fitting them into your coworking space is going to be difficult.
Ok, so co-working is not suitable for companies who sell physical products. What about traditional warehouse spaces?
Renting a traditional warehouse is capital intensive
As Retailers, businesses and startups adjust their sales channels with the explosion of e-commerce, they have to adapt the way they operate and catering their operations to this change.
Businesses are now facing the complexity of warehousing storage, fulfilment activities and last mile deliveries.
Operating a warehouse space in the traditional model requires significant upfront capital and long term financial commitments. While the overall unit cost of rent is low, the large size space commitment may result in a higher monthly capital outlay.
Read here for rental prices of warehouse space in Singapore.
Setting up a warehouse is capital intensive, involving installation of power points, lights, fans, air-conditioning, as well as the purchase of logistics equipment including racks, shelves, pallet jacks, label printers.
And then, there are the day to day cost of operations and the hiring of manpower.
Cowarehousing is the cost effective and smart way for eCommerce & startups in Singapore
The playing field for startups and small businesses needs to be levelled.
The traditional model of warehouses and the typical coworking space needs to adapt to changing requirements of businesses.
Co-Warehousing might just be the smart and cost-effective way forward.
Flexible and smaller spaces, access to shared operating facilities and equipment, a fully set up shared workspace, and access to onsite warehousing services and last-mile deliveries.
Startups and small businesses can now reduce their upfront capital and scale up, or down, according to their business needs.
Another option would be renting small office spaces that have a storage space. I've previously covered 4 cheap office with storage space in Singapore here.
A look at SpaceLabs - a Co-warehousing facility in Singapore
Spaceship, a Singapore startup in the on-demand storage space, recently expanded their business and launched SpaceLabs, a co-warehousing facility built specifically for small businesses, eCommerce and the creatives.
SpaceLabs facilities include not just co-working space, but also has flexible warehouse storage space, onsite logistics fulfilment facilities, photography studios for product photography, and on-premise logistics services and deliveries.
Located in the industrial areas in Singapore, the co-warehousing space is designed not only to provide a cost-effective alternative to co-working space, but a space that is designed for working, operating, storage, order fulfilment, digital production and shipping of merchandise.
Lower monthly rental costs, extra operating facilities, onsite logistics support, discounted last mile deliveries - now that really helps small businesses.
Read about how this couple grew their company in our co-warehouse here.
Hot Desking and Private Workspace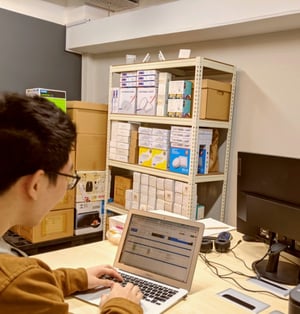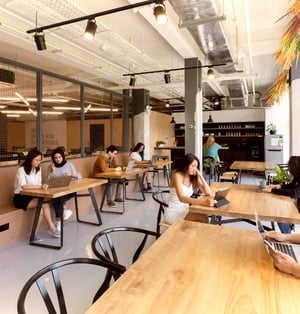 SpaceLabs offers a range of workspaces from one person, to a team of over 10 people.
There are private rooms and hot-desking spaces. Desks, chairs and storage shelves (if required) are provided.
Through a monthly subscription, users can use the workspace, the on-premise amenities that you typically find in a co-working space (Internet, utilities, pantry, reception, meeting rooms).
In addition, users can also access the shared operating equipment, operating facilities and book logistics support services, charged on a per use basis. More on this later.
Read more: Comparison of Coworking Prices In Singapore Based On Location
Storage Space In The Shared Warehouse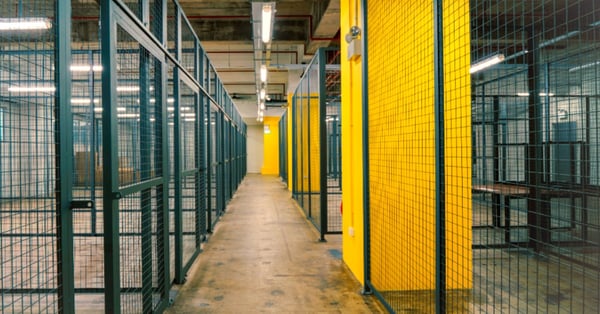 The warehouse storage space is sectioned off into small size storage units, separated by partitions to enable users to safely store their inventory.
Users have the option of having the storage units fitted out with shelves or bare, depending on the size of their inventory.
Storage units can be scaled up or down (subject to availability) monthly, which is a great cost-saving option for businesses.
The warehouse storage space is accessible only to users and is monitored by surveillance cameras.
Here are the types of storage units available at SpaceLabs:
Caged storage units with shelves

Enclosed storage units

Direct access units (on the ground floor)
If you are looking for storage space prices, we've written a post on a comparison of storage space prices in Singapore.
Operate, Fulfil And Ship Products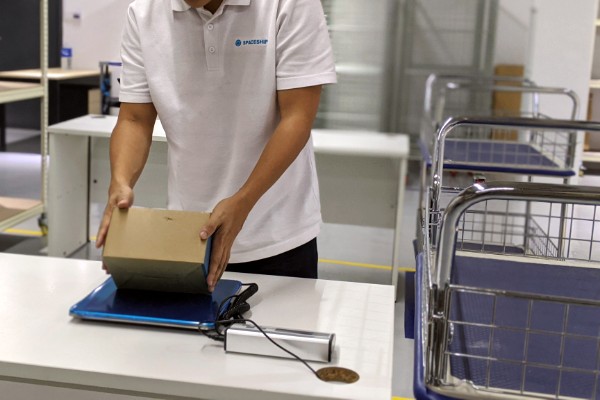 There are many stages in the journey of running an eCommerce business. This includes procurement, labelling, storage, order processing, fulfilment, packing and shipping packages through last-mile delivery providers.
Yes, it is not easy.
At SpaceLabs, the operating facilities, shared equipment and onsite logistics help to make things easier.
For example, users can use the shipping weighing scales and label printers to weigh packages and print shipping labels. When there is a new inbound shipment of goods, users can book the onsite labour service to unload their cargo.
Here are some of the operation facilities, equipment and services:
Shared Operating Facilities: Pick/pack stations, goods in/out area, cargo lifts, loading docks, dispatch zones, shipping stations

On-Premise Logistics Services: Loading / Unloading, Product Labelling, Delivery and Collection Centre, Last Mile Deliveries

Shared Equipment: Shipping weighing scales, label printers, pallet jacks, roller trolleys, hand trolleys
Extra Convenience With Onsite Photography Studio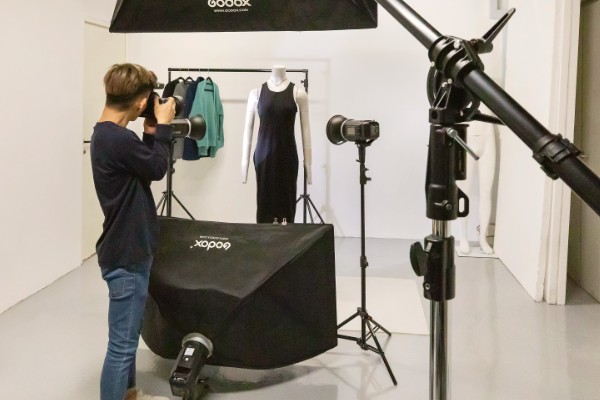 Need product photos? Or product demo videos?
The on-premise studio that comes equipped with standard photography equipment including backdrops, tripod stands, reflectors, flash heads, lightboxes, and even mannequins, provides this extra convenience and flexibility.
Co-Warehousing is also for the social media influencers
Wait, co-warehousing is also great for the online social media rockstars.
The global trend of YouTube and Instagram celebrities has led to the proliferation of many local homegrown influencers.
As these influencers build for themselves a growing thriving business, they have to continuously build out an online brand that involves the production of vlogs, lifestyle videos, sponsored product videos.
These online celebrities need a space to work, shoot, post and operate.
Traditional large media companies often operate with their own studios and working spaces. This requires significant capital commitments and disadvantages the local homegrown influencer.
The playing field can be levelled too. A number of the users at SpaceLabs use the co-warehousing space as a place to work, operate and shoot photos and videos.
Locations of SpaceLabs
Spaceship currently has two facilities located in the industrial areas of Eunos and Ang Mo Kio. I've left the address below with links to Google maps for easy reference.
Address: 100 Eunos Ave 7, Singapore 409572
Nearest MRT: Eunos (12 min walk), Paya Lebar (15 min walk)
Address: 38 Ang Mo Kio Industrial Park 2, Singapore 569511
Nearest MRT: Ang Mo Kio (15 min bus), Hougang (20 min bus)