Co-working spaces are getting all the hype these days bringing the entrepreneurial community closer together. When Spaceship Storage started out in 2014, we rented a hot desk at Paktor's office so that we could be surrounded by like-minded hustlers without having to worry constantly about the cost of rent every month.
Since we received the kind support from the team at Paktor that helped Spaceship get our feet off the ground. We thought we'll pay it forward by consolidating a list of 5 co-working spaces in Singapore so that entrepreneurs can save time going through each search result in Google to check out prices of a hot desk (or closest to one).
A hot desk loosely defined here is a seat in a co-working space. One gets access to the space daily but is not entitled to a fixed desk.
5 Co-Working Spaces in Singapore
1. The Great Room Premium Co Working Space
Website: http://thegreatroomoffices.com/
Location: One George Street 1 George Street #10-01 Singapore 049145
Rates: $70 for a day pass
The Great Room is premium co-working space that centers its design around luxury and hospitality. Take a tour around their space in the video below.
Tour of The Great Room
2. Spacemob Start Up Friendly Co Working Space
Website: https://www.spacemob.co/
Locations:
Spacemob @ Claymore |

8 Claymore Hill, #03-01

Singapore 229572

Spacemob @ Ascent | 2 Science Park Drive #02-06, Singapore 118222
Rates: $365 per month for Flex Space
Recently acquired by WeWork, Spacemob is home to General Assembly, an education centre that aims to close the skills gaps in our increasingly digitized world.
Shared Space in Spacemob Claymore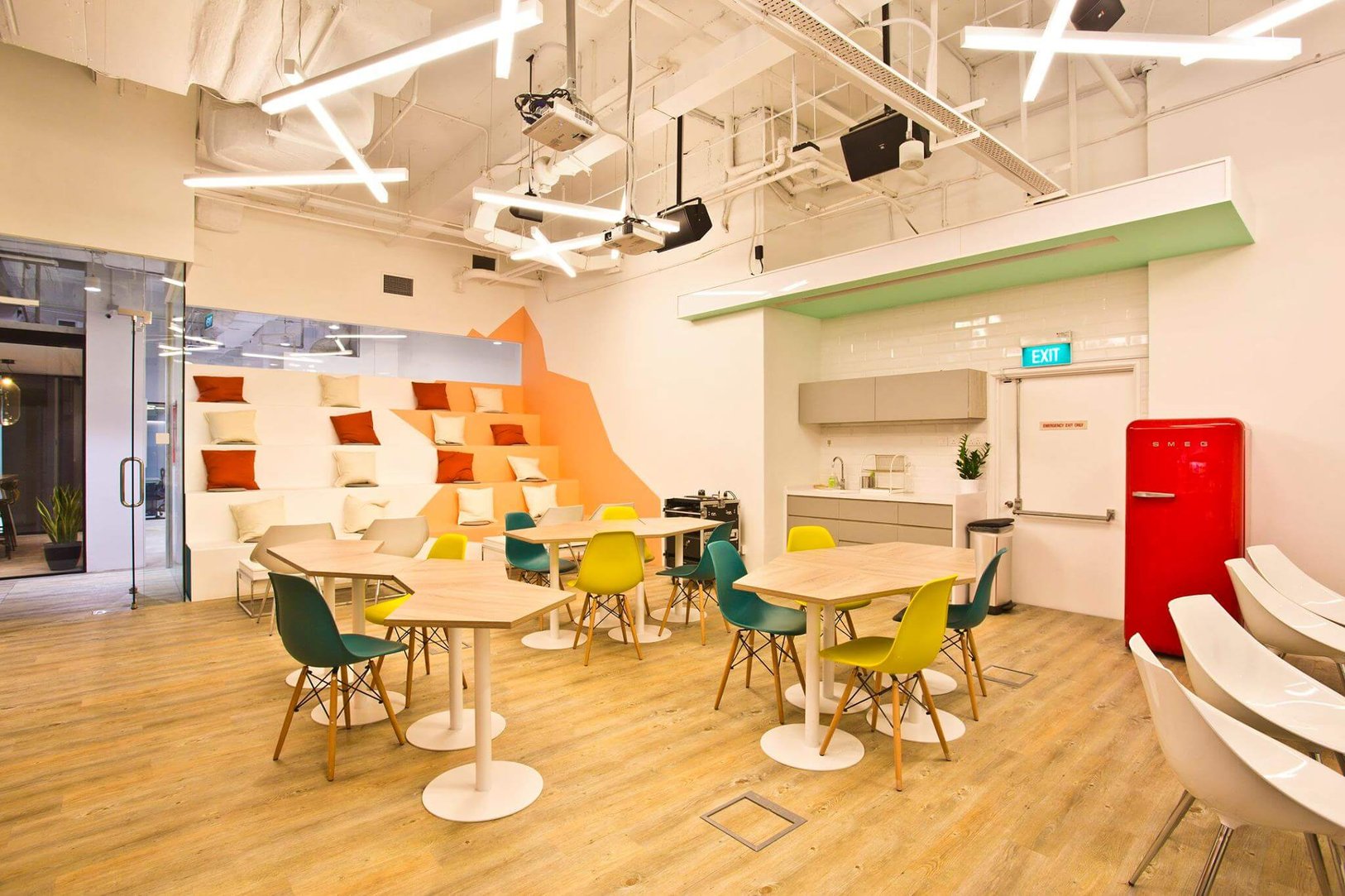 Source: Spacemob's Facebook Page
3. Collision 8 Formal Co Working Space
Website: https://www.collision8.com
Location: High Street Centre, 1 North Bridge Road #08-08 Singapore 179094
Rates: $250 per month for Light Lounge Pass
Situated along North Bridge, Collision 8 gets the best of nightlife at Clark Quay and access to wide variety of food at Boat Quay at City hall.
About Collision 8
4. Just Co Community Focus Co Working Space
Website: http://www.justcoglobal.com/
Location(s):
Robinson | 120 Robinson Road #15-01

Singapore 068913

Raffles Quay | 6 Raffles Quay #16-01 Singapore 048580
Shenton Way | 5 Shenton Way, UIC Building, #10-01 Singapore 068808
Marina | 7 Straits View, Marina One East Tower, #05-01 Singapore 018936
Marina Square (

Opening in 2018 Q2

) | 6 Raffles Boulevard, Marina Square, #03-304 to 327, #03-332 to 345

Singapore 039594
Rates: $398 per month for Just Desk Unlimited
With 4 locations, it makes it easier for freelancers and entrepreneurs to pop into an office quickly after external meetings. Might be worth the slight premium if you think about the cost of transport travelling to and fro from one office.
Just Co Robinson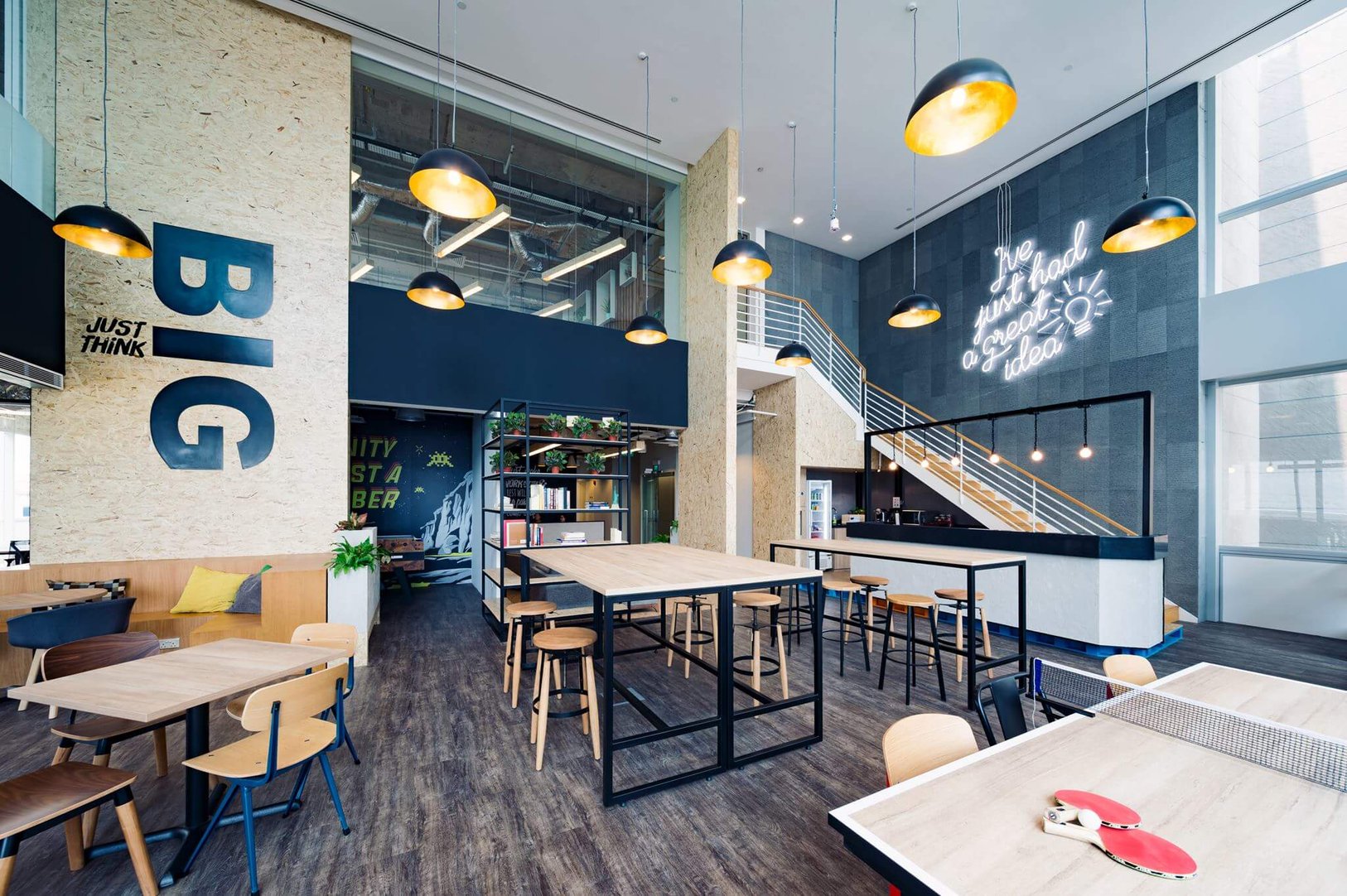 Source: Just Co Facebook Page
5. The Working Capitol Expat Friendly Co Working Space
Website: https://theworkingcapitol.com/
Location(s):
Keong Saik |

1 Keong Saik Road, Singapore 089109
Robinson | 140 Robinson Road, Singapore 068907
Rates: $255 per month for Workspot
The Working Capitol is known for their Green is the New Black event where social entrepreneurs are invited to talk about their journey. Their space is tastefully designed and close to popular restaurants like Muchachos and Potato Head Folk.
The Working Capitol - Behind the Brand
Summary

Most Budget Friendly
Day Pass: Collision 8 - $40 per day
Hot Desk: The Working Capitol - from $255/month
Fixed Desk: Spacemob - from $550/month
Private Office: Just Co - from $800/month
Hope this simplifies your co-working space research a little. If it's more than a desk that you need for your e-commerce or marketing consultancy, Spaceship provides affordable and convenient storage and fulfilment solutions so you can keep your bottom line as lean as hydraulically grown kale.
---
Singapore's First Office and Storage Space

Launching in APRIL 2018, SPACELAB by Spaceship Storage is Singapore's first ever co-warehousing space where innovative business leaders and savvy marketers scale their operations. Just come in with your laptop and you'll be all ready to hustle with full support for your warehousing needs. With merchandise within reach, you can now 'wow' your customers with customized product made on the spot. And you can save a lot on time, energy and cost spent on logistics with the office stock timely topped up by Spaceship. What's more, you get to meet a bunch of like-mineded entrepreneurs, marketers and freelancers to be constantly inspired and supported.
Interested?