Let's be honest, most of us have a cluttered home. Whether its due to a hoarding problem of your sentimental keepsakes or that shopaholic tendency you have whenever a sale comes along, the mess that accumulates might cause stress and prevent you from having enough space to do that HIIT workout that you've been seeing everyone on your insta-story do this COVID-19 period.
If you relate to this problem, you might want to consider getting an external storage space.
What Is The Cheapest Storage Facility In Singapore?
Launched in 2014, Spaceship is Singapore's 1st all-in-one storage facility, with valet storage, self-storage units, co-working space with storage and even fulfilment handling for business storage. From just $99/month (usual price $110. 10% off first 3 months storage), they are the cheapest solution you can get out there to declutter your office or home. Here's what you need to know about them: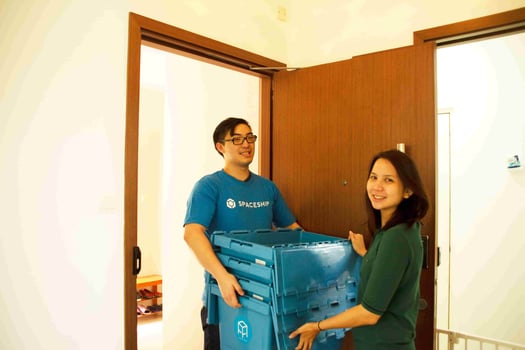 Is It Worth Getting A Storage Unit?
Whether its worth it depends on:
the storage space cost

how much of a hassle is it for you to retrieve your items whenever you need them

whether you need to physically move your items to the storage facility which is an additional burden.
Luckily, Spaceship takes care of all these worries you have. In case you're worried about the storage cost, we've also written an article with the comparison of storage prices in singapore - it was found that Spaceship's door to door storage is 8% cheaper than the next cheapest provider!
Why Do People Get Storage Units?
Individuals get storage when their items start cluttering their homes and they are reluctant to throw them for sentimental reasons. Businesses get storage to store inventory: it is not feasible for them to keep storing them in the office which has limited space. They also need excess stock to cater for unexpected demand.
If you're persuaded to get storage, you might wish to consider Spaceship. Here are some reasons why their customers are so satisfied with Spaceship's storage services (4.9/5 stars on google review).
1. They Cater For Multiple Storage Sizes
All of us have different space requirements; some require a space as big as a bedroom while others could be storing just a few boxes. Spaceship offers space from as small as 20 sqft in their door to door storage plan. For corporate customers requiring a large space, they can always opt for spaceship's self storage plans and rent more than one unit to scale up and down based on customer demand for their inventory. With over 200,000+ sqft of warehouse space, you wouldn't need to find another storage provider no matter how big your company grows. If you're unsure about the size you need, you can always use their space estimator.
2. Flexible Lease Terms - Low Commitment Required
Their flexible storage periods make them attractive to customers who wish to store only short-term (eg. 1 month). You can get their cheapest plan at only $99/month (usual price $110. 10% off first 3 months storage) which can get you can store approximately 20 boxes, PLUS free 5 huge boxes delivered you in advance. Even if you want to terminate your storage subscription in advance, they will prorate your fees such that you only pay for only what you use (T&Cs apply)
3. Track Your Items Anytime, Anywhere
Their warehouse team will barcode label your items and upload their pictures on the Spaceship app so you'll have an online catalogue of them wherever you go. You'll never forget what items you store with them. It's better than forgetting where you place them at home or even worse, forgetting if you actually own that item.
For businesses who have to deal with suppliers and stock-taking, Spaceship value-adds by helping with the whole logistics process and updating the inventory into the app. They'll help with inbound receiving of items directly from your suppliers and even help you with last mile delivery. Businesses can now make faster decisions based on demand, due to their real-time updated inventory.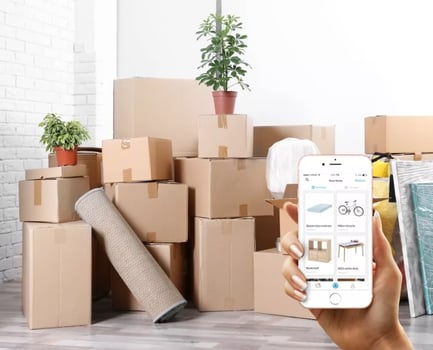 4. They Pick Up Your Items & Deliver Them Whenever You Need
For those lazy to arrange transportation of items to your storage facility, you'll be glad to hear that Spaceship has in-house movers who'll not just send your items to our facility, but also help wrap and pack your items securely before that.
Their movers have done a range of jobs from office moves to residential moves, overseas relocation and even event collateral moving. Bulky item disposal, special item handling (eg. pianos) and handyman services (eg. Item disassembly & assembly) are all provided. Fun fact, they've even helped Wah Banana move their items before!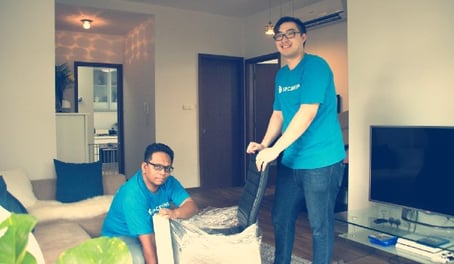 4. Their Storage Facility Is 100% Secure
Are you storing something that you don't want anyone to know about? Maybe they are super valuable and you are paranoid that they might get stolen? With Spaceship storage facilities' 24/7 CCTV surveillance, fire protection system and insurance coverage, your concerns will be unfounded.
It's almost as tough to break into their facility as it is with the Royal Mint of Spain (unless the robbers are part of the gang in Money Heist but come on, such things only happen in dramas). With over 10,000+ customers to date and serving clients like H&M, Facebook, Netflix and Mongabong, you can be rest assured that your items are in good hands with their professional expertise.
5. They are a 1-stop storage facility
Spaceship is the only company in Singapore that provides all kinds of storage services. From document storage, door-to-door valet storage, business storage and even Singapore's 1st co-warehouse, you'll definitely be able to find a plan suitable for you! It's better than going for a storage provider that does only self-storage, their sales team will then persuade you to get a self storage unit even if what you actually need is door to door storage.
Storage Space Promotion
They have a declutter promotion now for their 20sqft (ie. closet size) to 120sqft storage plan (ie. living room size). There will be a free move-in to their facility which can save you from $110 - $400 depending on the amount of items you're moving. Items do not necessarily need to be in Spaceship boxes, it can be in your own boxes, or even irregular shaped items such as your dressing room table, cabinets etc.
It includes protective coverage and packaging materials so there won't be damage to fragile items during the transportation journey to their storage facility.
All these from only $99/month (usual price $110. 10% off first 3 months storage) is super worth it considering how most storage companies attract you with dirt cheap rental but hide the fact that you'll have to pay for packing materials and the moving process which can cost a bomb. For more details, please call +65 6220 0126.
Get A No-Obligation Free Quote
or email us:
Spaceship Makes Storage Easy
With their affordable pricing and convenient storage solution, you no longer have to make the painstaking decision of which item to throw to make space or make time to pack your house. If you can't live the Marie Kondo way because you have not enough space to keep items that spark joy, you can always call Spaceship for an easy way out today.