In another blog post, I mentioned that not all warehouses are created equal. With the different types of warehouses and numerous services available, knowing the difference and comparing prices can be a crucial decision for your business. We've spent some time researching on the prices of warehouse rentals in Singapore - may it give you some insights and direction in the search for your ideal choice!
To get started, let's compare prices across this 3 categories.
Location (Dedicated Warehouses)
By Companies, Brands, Providers
Shared Warehouses
The parameters to be kept constant:
Warehouse size: 100-3,000 sqft
Uses: Storage and logistics. (Warehouse for heavy industry and manufacturing not included)
COMPARISON OF PRICE BY LOCATION OF DEDICATED WAREHOUSES
Definition of a Dedicated Warehouse: Simply speaking, it is a warehouse that is occupied by a single tenant.
Location, location, location. This is the main factor which determine the price.
We've compared the relative average prices of industrial property across the different regions in Singapore and have collated into a graph.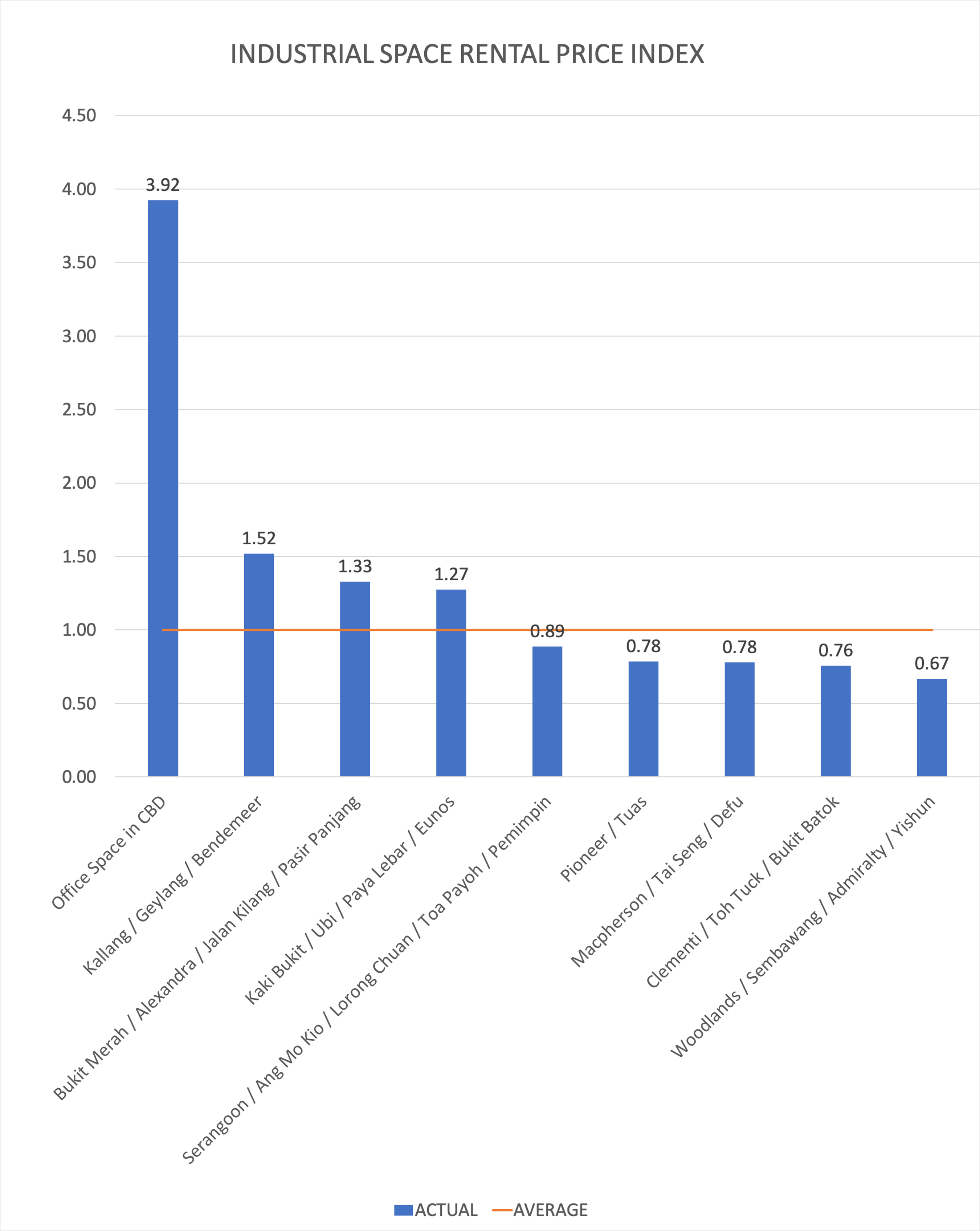 Benchmark: Office Rental in CBD
Other Things To Take Note Of When Looking At Warehouse Prices
Prices are based on a broad category of 'industrial spaces'.
Prices can vary within the same district depending on the condition of the property (eg. fitted vs bare unit). A unit that is fully fitted with air-conditioning and lights will command higher rental price.
Different premises and landlords have their restrictions on the types of activities that can be carried out within the warehouse.
As a general rule, the further the warehouse is from city centre, the lower the prices.
COMPARISON OF PRICE BY DIFFERENT PROVIDERS IN THE SELF STORAGE INDUSTRY
We have contacted the following self storage companies in Singapore that also lease warehouse units 500 sqft- 3,000 sqft non-aircon warehouse.
Lock + Store
Windy Storage
Dstorage
These companies are self-storage providers that also provides warehouses for end-users to run business operations and storage.
Prices across this companies are fairly similar ranging from $1.60 psf - $1.90 psf and usually require a minimum lease term of 6 months to a year. Shorter term of lease can be negotiated and would usually fetch a higher price of up to $2.10 psf.

COMPARISON OF PRICE BETWEEN SERVICED WAREHOUSES
The last area of comparison are serviced warehouses. Such warehouses stores goods from multiple businesses operating under one single facility managed by a 3rd party provider. Here, skilled labour, machinery and logistics equipment are also provided.
This is the preferred warehousing type by large e-commerce businesses as it has flexible cost structure with shorter lease terms. The cost becomes more of a variable factor and moves with volume and the activities level of your business.
Location of the facility is not an important factor for comparison as the entire end-to-end operations are often outsourced to the 3rd party logistics provider. Infact, such serviced warehouses will not allow direct access to the facility. That being said, you will still need to find an alternative place to work and operate out of.
Some companies which provide such services are:
iHUb Smart Logistics
Cost: $2.00 per month per sqft per rack (height 1.6 meters) or
$3.80 per cubic meters (CBM) per week
Whitebox
Cost: Charge by volume of $5.50 per cubic meters (CBM) per week.
SDR Logistics
$1.60 per sqft

*Serviced warehouse space usually have a height limit of 1.3 - 1.8 meters per square feet of space used. Companies providing shared warehouse space will usually optimise their space using racks. There are also other variable cost such as handling fees which needs to be factored in.
So why do e-commerce business preferred the serviced warehouse despite the higher price per square feet?
E-commerce start ups can leverage on existing warehouse infrastructure instead of acquiring their own
The low commitment and flexible lease terms is more attractive to many small-mid e-commerce business
As earlier mentioned, price flexibility allows businesses to scale their usage as their business grows.
The downside: You have little to no control over operations and adapt.
CO-WAREHOUSING - BEST OF BOTH WORLDS
So far we've mainly mentioned the dedicated and serviced warehouse model. There is a 3rd type of warehouse which is known as Co-Warehouse (collaborative warehouse).
Co-warehousing combines the benefits of the price structure of a shared warehouse while allowing you to retain operational control.
In Singapore, Spaceship recently launched Singapore's first Co-warehousing facility. The space is designed for entrepreneurs, e-commerce, retailers and distributors. Facility includes flexible operating spaces, storage spaces, shared fulfilment zones, shared equipment and on-site logistics services. Co-warehousing is great for small businesses as everything is taken care off and all you need is to focus on sales and marketing to grow the business. As Spaceship describes it - the Space for Supersonic Growth.
To learn more about Spaceship's co-warehousing space, it will be best to book a tour by clicking on the link below: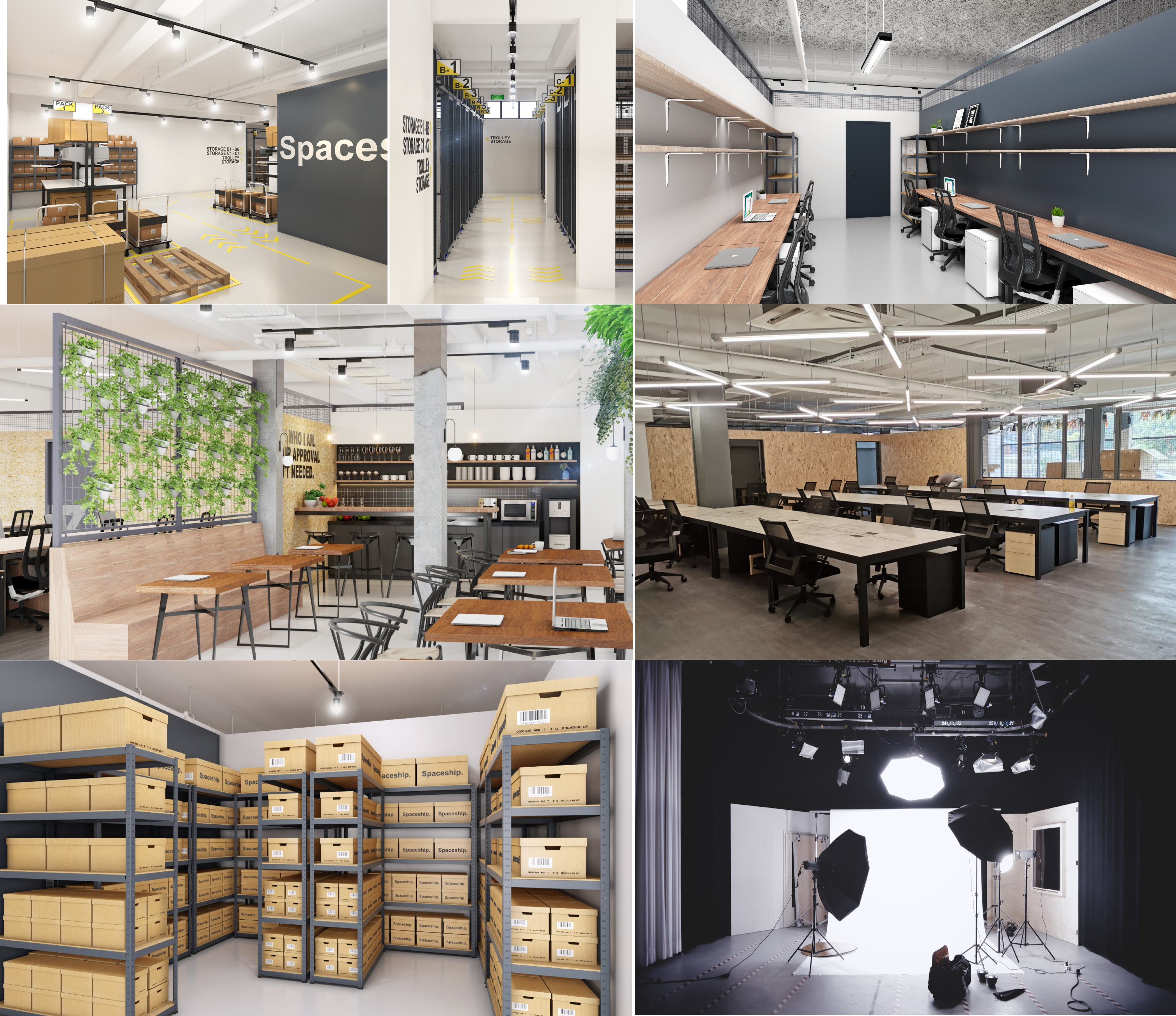 Spaceship Storage's Co-Warehouse
FINAL THOUGHTS
Warehouse (industrial property) prices gets relatively cheaper as we move away from city center.
Prices offered by different companies/ providers are generally competitive.
Shared warehouses generally cost more on a per square feet basis but are still a preferred choice by many small-mid size business due to its flexible cost structure.
Co-warehouse offers a hybrid of benefits, with a shared warehouse pricing structure and set up while maintaining operation visibility and control

Find out more about Spaceship's Co-warehousing.