If you are starting a new business, or expanding your operations, you might find yourself looking for warehouse space at some point in time.
Searching for warehouse space is a time-consuming process but an important one as it typically involves heavy capital outlays and long term.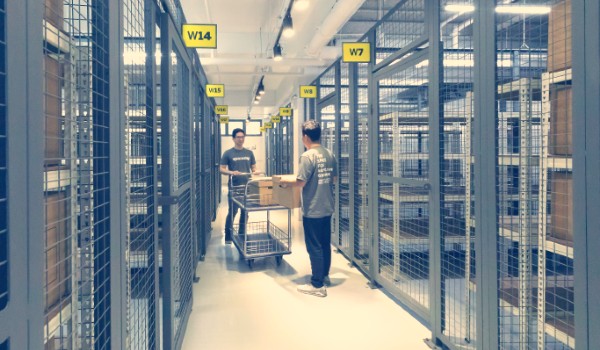 Image: Spaceship Co-warehouse Caged Storage Units
Before committing to a warehouse space, location and unit price ($ PSF) are not the only considerations.
It is important to understand the costs associated upfront, the daily operating costs of managing the warehouse, and consider fluctuations or changes to your business.
Different types of warehouses are best suited for different businesses depending on the stability/growth, operating requirements, storage requirements. Let us dive deeper.
What Are The Various Types Of Warehouses?
There are many ways to categorise warehouse types in Singapore. In Singapore, the common types are B1's/B2's, JTC type of flatted factories, Ready-built spaces, business parks, HDB former industrial properties.
Instead of looking at types of warehouses in that manner, I'm going to focus on the functionality of the warehouse space based on the type of the business, and the overall business requirements.
I've categorised this into 4 types of warehouses:
TLDR - Co-Warehousing Is The Most Convenient & Cost-Effective
For startups and small businesses who sell merchandise and need a workspace to run the day-to-day business, co-warehousing is the most convenient and cost-effective type of warehouse.
Co-warehousing is a new model that leverages the sharing economy to provide better efficiencies in the warehouse space.
I've written an overview of co-warehousing which combines coworking space with warehouse storage in this post.
If you are an e-Commerce business / Lazada Seller / Shopee seller, you'll definitely need to learn more about the co-warehousing space that Spaceship provides.
Bundled into a monthly subscription plan, companies have access to workspaces, storage units, shared operating facilities, shared operating equipment, onsite logistics support (on a pay-per-use basis), and bulk rate community benefits (including discounted last-mile deliveries).
Yes, it's a space designed specifically for e-commerce businesses, with a goal to make fulfilment easy.
For E-Commerce Businesses, Shopee Sellers, Lazada Sellers, Learn More About Spaceship's Co-Warehousing Space
Traditional Warehouse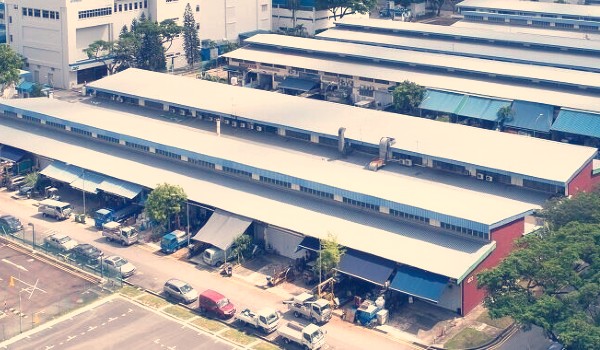 Image: JTC Traditional Warehouse (Flatted Factory)
This is the traditional model of warehouses. Fixed space, monthly rental model, sign a 2-3 year lease and manage the space yourself.
To find warehouse space, you'll need to go through the standard process of finding space on Commercial Guru, call up a few agents, arrange for viewings, sign a lease/license agreement, place 2-3 months of the security deposit, set up, and manage your day to day operations.
Heavy upfront capital, is rigid, but if operated on a large scale with a steady and predictable business, you may enjoy better unit economics.
These warehouses range from sizes from 2,000 sqft to >100,000 sqft. Monthly rental is typically based on a $ PSF basis.
Depending on the location of the warehouse, the size of the warehouse space, you're likely to pay between $1.40 PSF to $2.80 PSF.
In addition to monthly rent, manpower costs and technology costs, here are the other expenses:
Hefty setup fees: From the installation of DB boards, wiring the space for power points, lights, racks and shelves to keep goods, fans, steel cages, and work stations to operate

Utilities: You'll need to pay for electricity, water and Internet to keep the warehouse running

Insurance: You'll need to buy insurance coverage for all risk coverage and protection against 3rd party damages.

Supplies: These can add up monthly and include things like pallets, packing boxes, stretch film wraps

Security: To safeguard your items against theft, you'll need to install surveillance cameras and door access control.

Maintenance: Maintaining of lights (which can be very expensive in a high ceiling warehouse)
Suitable For: Mid to Large companies with large bulky inventory, require parts of the supply chain to be carried out at the warehouse (e.g. production, assembly).
Pros: Lowest in terms of unit price per square feet, able to work and operate in the warehouse, full control of your goods and operations.
Cons: Rigid long-term commitments, fixed space, often not fully utilised, when volume fluctuates or during seasonality, under-utilised space becomes a sunk cost.
3rd Party Logistics Warehouse Providers
Image: Amazon's 3PL Logistics Warehouse
If you sell products (whether online, offline or both), you might want to consider 3rd party logistics providers (3PL).
These 3PL's provide warehousing storage, order fulfilment, deliveries and more., and typically distribute multiple brands and types of products from different companies in a central warehouse.
Now, there are two types of 3PLs - the traditional ones that typically work with very large companies, and the e-commerce fulfilment centres.
Traditional 3PLs typically manage standardised items in pallets or cartons, have a longer fulfilment service timeline, and may not offer competitive last-mile delivery services. For small businesses that sell products online, you should be narrowing your search to e-commerce fulfilment centres.
In terms of storage fees, pricing is usually on a per CBM (cubic metre) number of pallets basis.
Depending on the volume or number of pallets in storage, you pay a weekly or a monthly fee based on your usage of space. Some companies also charge an inventory software fee (the more SKUs you have, the more you pay).
The good thing about using 3PLs is that companies can scale up or scale down their inventory depending on demand. These 3PLs also provide warehousing services, order picking and packing, and last-mile deliveries which you pay on a pay per use basis.
This helps to further reduce the monthly fixed expenses incurred.
Some companies providing e-commerce fulfilment centre services:
Suitable For: Companies who sell merchandise online and offline that are typically small in size, or sell multiple quantities (>50) per individual SKU, and who do not need a workspace.
Pros: Flexible model with storage and warehousing services charged on a usage basis, no need to hire their own warehouse team
Cons: No access to your inventory as it is managed entirely by the 3PL, no office/workspace available, might not be suitable for companies who are just starting out.
Comparison Of Traditional Vs 3PL Warehouses
I've summarised the differences above into a comparison table.
| | | |
| --- | --- | --- |
| | Traditional Warehouse | 3PL Warehouse |
| Lease/ Commitment Period | 1-2 years | 6-12 months (Spaceship offers as low as 1 month commitment terms) |
| Security Deposits | 2-3 months | 1 month |
| Rental Model | Charged by sqft | Charged by volume or pallets |
| Typical Size | 2000 to >50,000 sqft | 1 pallet to >10,000 pallets |
| Facility Type | Bare - Some may not even have lights & power points installed | Fully fitted with whatever is necessary for operations |
| Services | None | Fulfilment service & last mile delivery |
| Used For Office & Operations | Yes | No Access |
| Setup Costs | High (Basic renovation, electrical, internet) | Low (Move-in fee & on-boarding one time fee) |
| Operating Costs | High - Pay for under-utilised warehouse space, manpower, utilities, racks, shelves, transit equipment etc. | Medium - Pay based on usage of space (some have min. sized commitments), inventory management system & all other logistics services involved. |
| Typical Use Case | Store goods, assembly / manufacture, internal office, own fulfilment & logistics operations | E-commerce fulfilment, distribution center, supply chain management |
Mini Warehouses For Small Businesses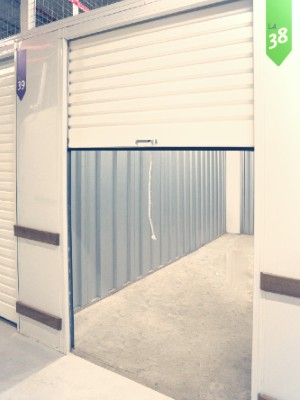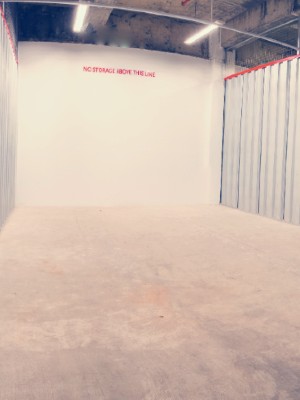 Image: Spaceship Mini Warehouse Self Storage Units
Mini warehouses are the alternatives to traditional warehouses in that you manage your own goods. Landlords or operators split up the larger warehouses into smaller partitioned units. These units range from size as small as 200 sqft to 1,500 sqft.
Some of these mini-warehouses come with power points and lights pre-installed, and some of these warehouse units may even have air-conditioning installed. This can help to significantly reduce the setup costs.
Typically, customers sign a 1 to 3-year commitment term, though there are cases where its possible to negotiate shorter terms of two to three months.
This especially helps small businesses where the required amount of warehouse space required is typically smaller, and although a higher unit price ($ PSF) is usually higher, upfront capital expenditure is reduced.
Some companies providing Mini Warehouses:
Suitable For: Small businesses who want a workspace that is in together with their inventory and who want direct access to their products (for QC, pre-sale branding, customise packaging).
Pros: Smaller size space that caters for smaller businesses, able to have your own office/workspace in the same place, less hefty setup costs.
Cons: High learning curve, have to manage order fulfilment and manage external delivery partners for last-mile delivery. Some amount of set up cost in equipment required.
It is good to note that Spaceship, unlike the other providers, has their own in-house logistics and last-mile delivery service so you won't have to source for external parties.
Co-Warehouse - The Perfect Model For E-commerce, Lazada Sellers, Shopee Sellers.
Image: Spaceship Co-warehouse Caged Storage Units
Now, this is a newer model of warehousing that is designed for startups, small businesses in the e-commerce space. We covered an overview of the co-warehousing model in this post and why this is the most cost-effective and convenient option for startups and small businesses.
In short, co-warehousing combines co-working space (with all the standard amenities that comes with a co-working space) with shared warehouse storage space, shared operating equipment and shared operating facilities, and shared onsite logistics services. By paying a monthly subscription fee, you can choose a type of workspace (hot desk, dedicated desk, private room) and add on monthly storage units (that also comes with storage shelves).
The shared operating space includes shipping stations (comes with shipping weighing scales, shipping label printers), pick/pack stations, dispatch zones (for returns and deliveries). Also, you won't have to purchase logistics equipment. These co-warehouses have pallet jacks, roller cage trolleys, hand trolleys, etc that are shared among the users of the co-warehouse space.
Some companies that provide Co-Warehousing facilities (well... there is only one)
Suitable For: Small businesses who want a workspace that is in together with their inventory and who want direct access to their products (for QC, pre-sale branding, customise packaging).
Pros: Smaller size space that caters for small businesses, able to have your own office/workspace in the same place, less hefty setup costs, everything set up in place, community benefits, bulk rate discounted last-mile deliveries. SpaceLabs can also help you move into the new office and storage space.
Cons: Overall higher unit cost ($ PSF), limited availability
Learn More About Spaceship's Co-Warehousing
Or visit us here: