To the average general public, chances are a 'warehouse' conjures up images of a big dusty covered shed with lots of random goods stored within it.
Well, not necessarily so as not all warehouses are created equal!
EVOLUTION OF WAREHOUSES
We've seen the evolution of residential houses from the simple landed, HDB and condominiums to what we have now - Cluster Houses and Condotels and Co-living apartments to serve different or specific requirements. Similarly, commercial office has also evolved where consumers now have the option of traditional offices, service office and Co-working spaces. The warehousing space is also evolving.
To simplify, we have categorised warehouses in Singapore into 3 main broad categories:
Traditional Warehouse
Modern (Service) Warehouse
Co-Warehouse
TRADITIONAL VS. SERVICED WAREHOUSES
Example of Traditional Warehouse: Corep
Traditional Warehouses are what most of us commonly understand as warehouses. They are usually fixed spaces or infrastructures which come without frills. Landlords rent out these spaces either as bare units, semi-fitted or fully fitted (with aircon, lights etc). Traditional Warehouses are usually rented by businesses for them to store goods for long term, double up as offices or run their own logistics operations.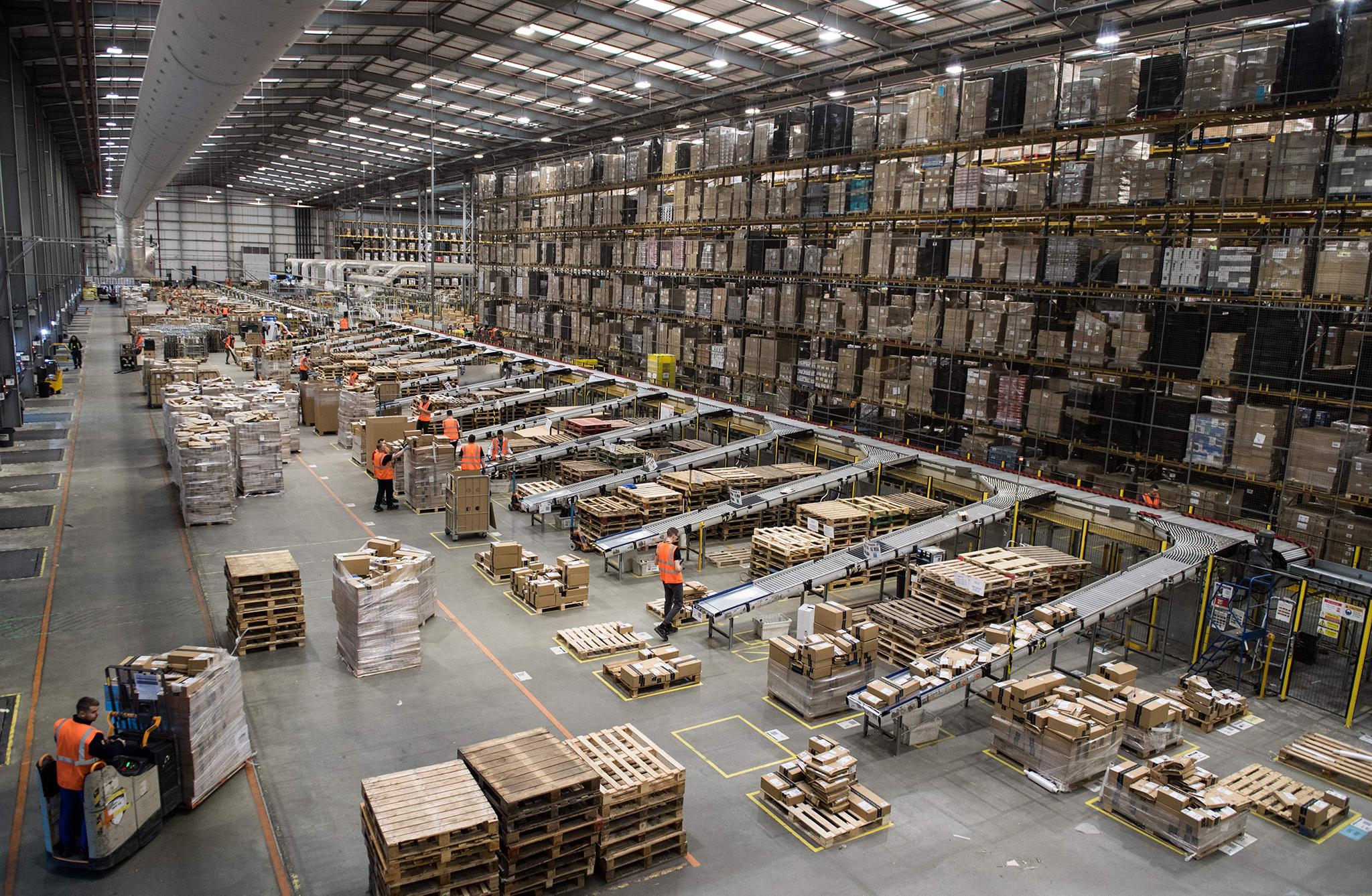 Example of Serviced Warehouse: Amazon
Service-type warehouses on the other hand comes in several shapes and sizes. Companies running these warehouses provide end-to-end services to their customers (such pick/pack and deliveries) and always comes with a team of warehouse staff or automation to manage inventory through a complex-web of operations. Terms that are usually associated with modern warehouses are:
Distribution/Fulfillment Centers (eg. Amazon)
3rd Party Logistics Warehouse Storage
Warehouse Management System (WMS)
On-demand warehousing
Unlike traditional warehouses, providers of modern warehouses rent out their spaces on a shared pay-per-use model instead of fixed-size units.
An example of a modern warehouse: Spaceship Storage
HERE'S A SUMMARY OF TRADITIONAL VS SERVICE OFFICE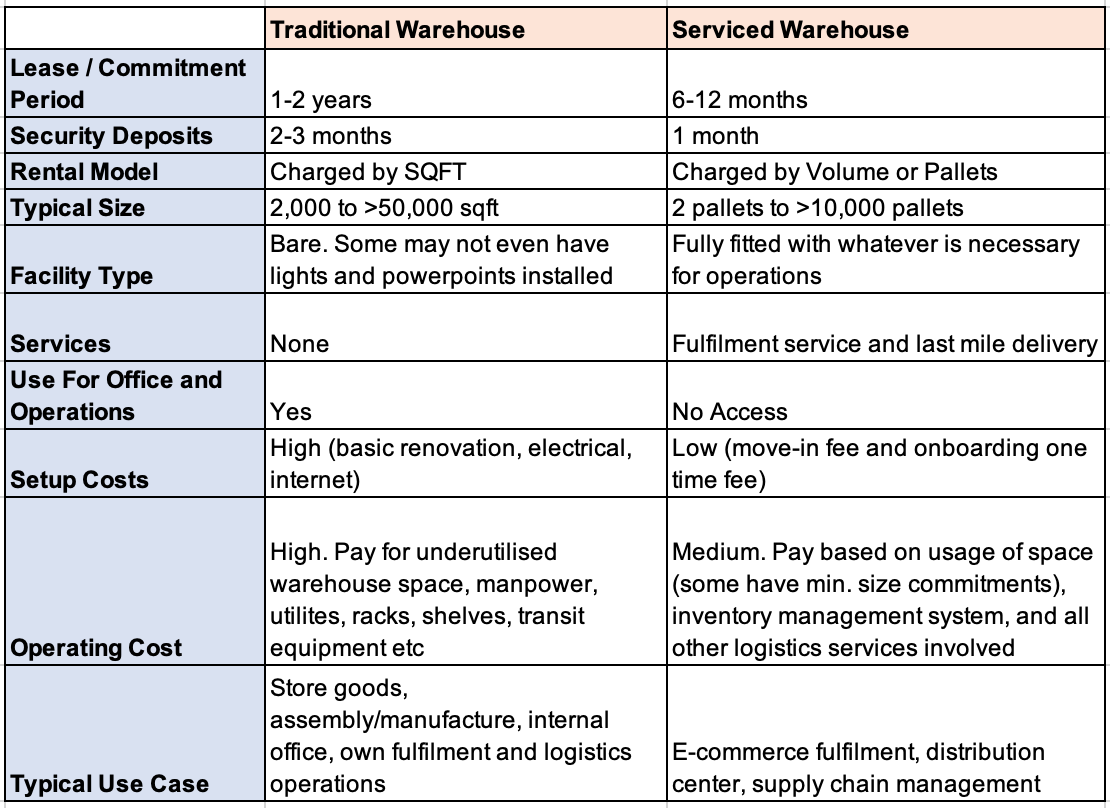 CO-WAREHOUSING EMERGING AS THE WAREHOUSE OF THE FUTURE
Warehouses have now evolved with the collaborative sharing economy.
This sharing economy has grown in various sectors over the recent years as we see the rise of Uber/Grab and AirBnB, and within the property sector, WeWork which provides co-sharing office space, and Hmlet which provides co-living spaces
Similarly in Singapore, the sharing economy has permeated into the industrial sector with her first launch of Co-Warehousing and Co-Operating space by Spaceship.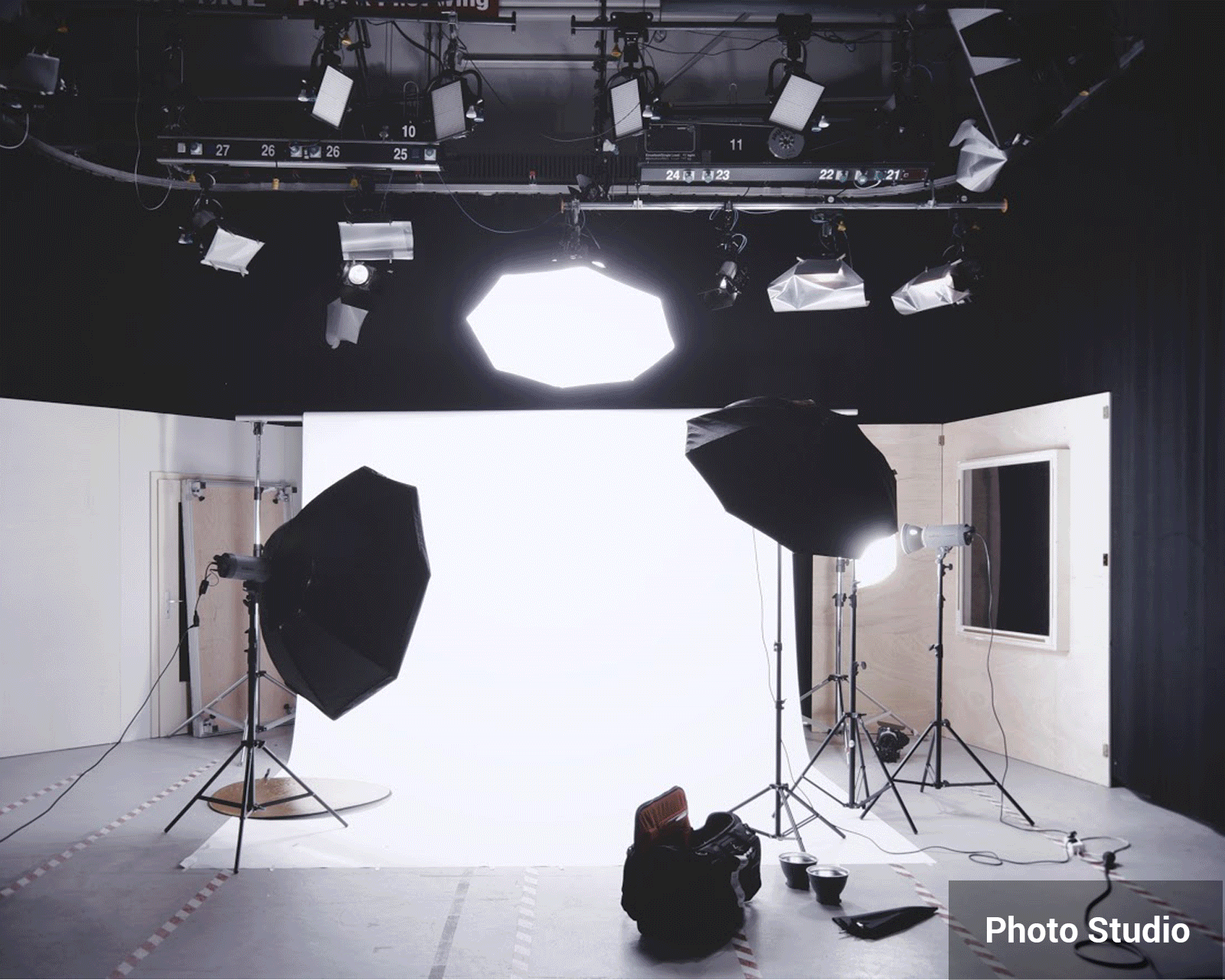 Example of Co-Warehouse: Spaceship
CO-WAREHOUSING
Designed to meet the demand for flexible warehouse and operating space in this new GIG economy. Shared or individual storage warehouse comes in a variety of sizes and flexible lease terms to cater for uncertainty of market forces often faced by retailers. Share resources such as pallet jacks, shipping stations and warehouse service professionals are provided on-site business to manage the flow of goods. On top of that, it comes with a variety of workspaces.
Similar concepts have popped out around the world in Melbourne and USA. Traditional warehouses are essentially quite similar to Co-Warehouses - less all the amenities and facilities around it.
In short, Co-Warehouse = Traditional Warehouse + Shared amenities/facilities
The other difference can be seen in the following table comparing between Traditional Warehouse and Co-Warehouse.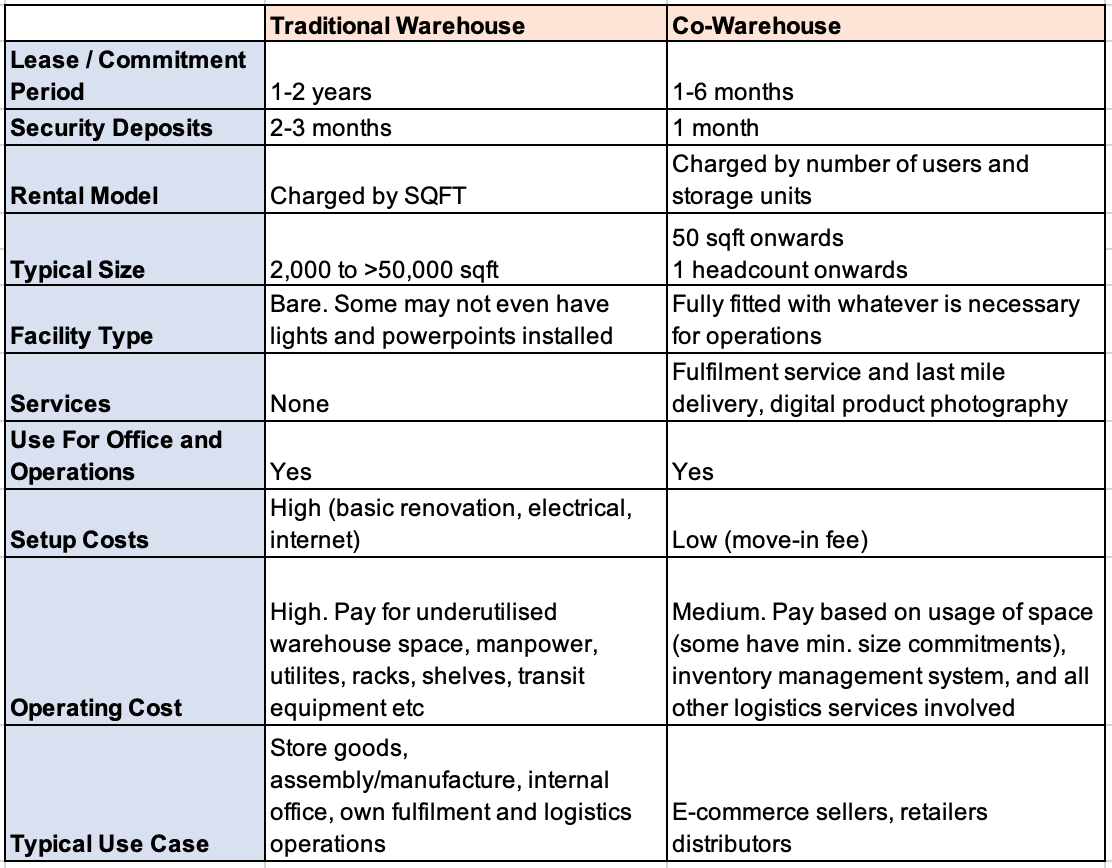 Spaceship is the first co-warehousing facility in Singapore. The facility includes flexible working spaces, storage space and shared fulfilment space (including pick/pack stations, dispatch and holding zones). Spaceship also provides shared operating equipment including label printers, barcode scanners, pallet jacks, roller-caged trolleys and hand trolleys. Internet, CCTV, utilities, and basic pantry amenities are also provided. Lastly, on a pay-per-use basis, customers can book last mile delivery services, bulky goods transportation, on-site labour for loading/unloading and digital production services (such as product photography, digital banner and product content writing)